Spot Light & Head Lamp not working.

Cenobite
Posts: 120
I have setup spotlights with bright lumens & they effect nothing in Iray, I have locked the head lamp, and reloaded the scene changed angle and still no light appears in my renders, hs daz3d made all renders dark & near unseeable... whats the point of doing this to the editor, one minute it works fine then it's like one minute of you have changed the settings and nothing works. Can someone explain why these strange things happen making this editor near useless because you can not work with it to because nothing is working. Explain why one scene works completely fine with the lighting in iray while another scene which starts out fine then darkens to a point nothing can be scene in the render. I have added spot lights to the scene below yet no light appears i have set the intensity yet nothing works, i can't highlight characters in light & the render doesn't complete as the graphics are blurred, do i have to light up the whole scene to get it to finish detail in the render and have no dark shadows in scene.. I feel like i'm being scammed while i see near perfect renders being done on machines half as good as mine yet i get these bogus no light renders WHY? i have to add 100 point lights in the scene to get any illumination, why is daz3d changing the light settings and all the time, the head lamp works one minute then even if you lock it i fails to work again, then other times it's set so bright it washs the scene out, seems like its on purpose to get me to waste time fixing something i shouldn't have too.
I have an i9 10th gen processor 10 physical core's 20 logical, i have 256gb DDR4 ram on the mainboard fully usuable with windows 10 pro, the video card i'm using is a nvidia 2080ti 12gb DDR6 vram, i'm using evo ME SSD hardrives that slot directly into the mainboard they are the size of a usb stick but have like 2TB space they are the fastest drives you can get, i'm running my OS on it's own disk for speed, the whole PC has been built to render yet you give me this half finished can't render shadows picutre my 15 year old pc can do.
The bottom render i add in another character and a more intense spot light that shows illumination in texture mode but when i go to render in Iray the render is incomplete after 3 hours waiting then the render just stops half finished with zero light, infact it's gotten darker in this recent render even tho i added more light why is this happening, why does this choose to render some pictures while others it leaves half done.
Can someone explain why it's gotten darker in the next render when more light has been added to this scene?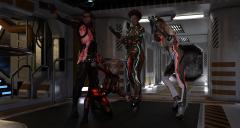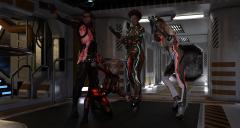 Post edited by Cenobite on