[Time-saving Tips] Daz to 3ds Max Bridge Biggest Takeaways
onyxlee_9b3cce7f35
Posts: 67
This post is mostly to clarify some confusion and inaccurate statements in the official FAQ.
This one describes the issues I had. The second post below has a more specific conclusion.
1, the figure has to be in a neutral pose! You can then transfer everything from Daz to Max 2021 perfectly. But as long as the figure is posed in Daz Studio, the skin and bones are messed up. Some bone rotation in Daz didn't go through. The connection with CAT rig still needs some work.
2, The clothes have lots of poke-through due to the inaccurate character position. Screenshot comparison in the attachment. Left is Daz, right is Max. In this case, the bridge character is 5 units above its correct position.
3, you have to set up a lot of materials in Max. When I saw the temp file was FBX, I had a feeling that the materials will not carry SSS, coating, emission and such, only the most basic ones, color, opacity and bump. Turned out I was right. The bridge so far is only good to import a fully rigged CAT character, we will have to manually wire all the materials and textures. Even the plugin's material converter can't do much since FBX can't carry anything but diffuse and bump. Look at all the materials in the cornea, tear, omg, that's tons of work... I guess I will still do my still frame in Daz Studio, although it doesn't support VDB, volume lighting and all.
The second attachment is a quick Arnold render right after import. It looks really lifeless.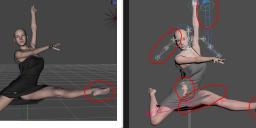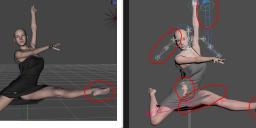 ACDSeeQVUltimate9_VbCx0y0WWJ.jpg


Post edited by onyxlee_9b3cce7f35 on