Scale & Move Daz Character Imported Into Maya?
SpaceCoyote
Posts: 10
Hello! I could really use some help with scaling and moving a character in Maya after importing it using the Daz to Maya Bridge. At first, the Bridge works great and I can easily get my character into Maya and, as long as I keep the character in place and at the same scale, I can pose it quite easily with all the IK points and all, which is great. But the big problem is that I can't move or scale the character without having the body deforming in weird (and horrifying) ways or the skeleton does not move with the body. In the past, when I've exported an FBX from Daz and imported it into Maya, there were ways I could group the Daz objects and attach certain parts to a new locator so I could properly scale/move the body with the skeleton but I haven't been able to figure out any tricks like this for the Daz to Maya bridge. Without being able to scale and move my character, the Bridge essentially has no use for me, unfortunately.
After importing using the Daz to Maya Bridge, is there a way for me to scale and move a character in Maya? Thanks for any assistance!!


daz_character_in_Maya_1.PNG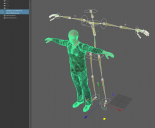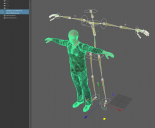 daz_character_in_Maya_2.PNG