Strange Poser Pro message... Any know what this means?-(Solved)

McGyver
Posts: 6,722
I haven't used Poser (Poser Pro 11) in several months and when I went to use it just now I was met by this message...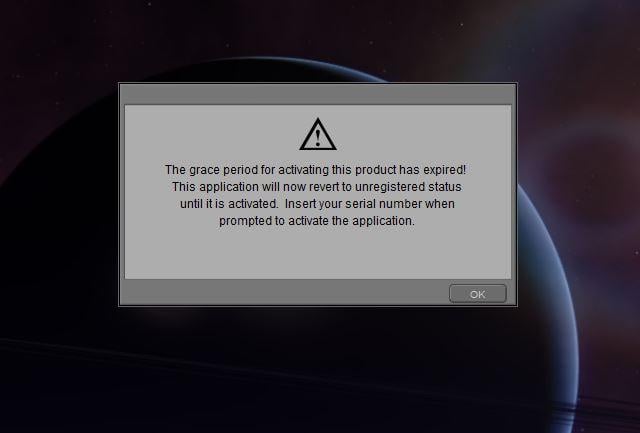 This is a legitimate registered copy of Poser Pro 11, from an actual physical DVD I've been using for years...
I get that Poser is no longer part of Smith Microsystems, but what is this "grace period" that the message is referring to?
Is this a legitimate message or is something phishy going on?
EDITED TO ADD CONCLUSION TO THE ABOVE ISSUE...
Basically I'm assuming this issue will come up if you didn't receive an email informing you that Poser changed ownership from Smith Micro to Bondware, the owners of the Renderosity marketplace, or you were otherwise unaware of this issue and missed the initial changeover...
The above popup notification is most likely because your copy of Poser 11 can no longer phone home to the servers of Poser's former owners...
As long as you still have access to your old registration key code, you should go to Renderosity's website and download whatever the current version is (assuming you aren't reading this too far in the future and it's no longer Version 11 and has moved on to Version 12 or higher or mutant human/cat hybrids have taken over the earth like in the "Cats" movie and have shut down the internet)... in that case if stuff has changed drastically, I don't know what the proceedure is and sorry you'll have to look up more info elsewhere... and possibly learn to dance like a cat... but hopefully it hasn't come to that...
After you install the Bondware version of Poser 11, you should get a registration screen... enter your old Smith Micro issued license key into the License key field long with the other required information and it should work.
Should... work...
If it doesn't, you may have to uninstall your old copy of Poser... that seems to be an issue for some people... also there is a possibility of there being an issue with Windows 8 because of certain (recent) updates by Microsoft and you may have to upgrade your OS to Windows 10... don't blame me, that's what some people have said.
I'm one of those jerkwads still using Windows 7 pro, so I didn't experience that issue... there was a slight tingling sensation, but that may have been from the infected capybara bite from earlier...
Apple users will probably have an issue with security as Apple will not recognize Bondware as verifiable developer... for you few daring folks the app should appear in System Preferences > Security & Privacy, under the "General" tab... Click "Open Anyway" to confirm that you wish to allow it open or install the app... The warning prompt will probably appear (unless things have changed since the least time I did that) and you can now tell it to open... The app should be saved as an exception to your regular security settings (assuming you have "regular" security settings) and in the future, it should open as any other authorized installed app. Yay.
If that's not how it works, sorry, I probably remembered it wrong because I'm not doing this on my Mac, only on my PC... but I think it's right... or rightish.
When you go to Renderosity's Poser download site you will see (or should see) "Download Additional Files", which requires you to enter your license key again on a different screen to download a whole bunch of new content like a whole gorilla and a horse... I really like gorillas a lot as I often impersonate one so that was a really cool bonus for me.
Since I can't post a link to another site's store, at the moment the way to get to the proper download section for Poser (if you didn't get the email, deleted it or something horrible happened), is to go to Renderosity's Poser forums and find a thread titled "Has your Poser stopped workin? License issues? Can't start Poser."... the links are there to the download page and the official notification of the changeover.
Hopefully this was helpful, I tried to include everything I just learned and figured out so as to save readers who've encountered this issue the trouble of piecing this together like I did... it wasn't fun.
Also... I have Poser Pro 2012 installed on my computer and didn't have any problems opening it despite the changeover... apparently it doesn't need to phone home.
Post edited by McGyver on