weight painting and rigging issues

Diomede
Posts: 14,282
I started a new thread for this topic because I was cluttering the challenge WIP thread (even more than I usually do). This seems like a topic that might generate more general interest, and we might get a wider set of tips and cautions.
We had been discussing the possibility of nesting bone rigs and joint constraints within larger groups. My issue was that I had a figure with a wide-flat torso. I wanted the shoulder to move like a robot where the arm issued from the card, but I wanted to preserve the ability of the torso to bend and twist at the waist, and I wanted to preserve the ability of the arm's elbow and wrist to bend naturally (similar issues with thighs/knees/ankles). Although the task at hand was completed, I was wondering if there was a faster and easier way to get the result I wanted. My thought is nested rigging for complex machines that have both robotic parts and more fluid belts and hoses.
If you want additional background, see here.
http://www.daz3d.com/forums/discussion/36508/P105/
Note - there are a few nuggets at the link, especially an example of EP creating posable handcuffs.
OK, so I modeled a simple card-soldier in the vertex modeler. It has a relatively flat rectangular torso. The polygons along the sides of the card near the middle are influenced by a lot of bones. This is not a deal breaker for posing, it is just tedious. i am just wondering out loud if attaching the limbs as groups with movement constraints (ball joint) could make this simpler.
In the attached screenshots, you will see that the side polygon I chose is influenced by 8 bones for the card soldier. A similar side polygon from the torso of a test object I made is influenced by only 3 bones. (edited to note that several of the bones are set to zero because I did that to get the pose I wanted).
So my question about nesting the rigging isn't about whether it is possible to get the pose I want, but instead it is about making it simpler and easier. And, my musings are forward looking - thinking about a complex machine that has both robotic and fluid parts (robotic levers and switches, but fluid hoses and belts)
polygon_affected_by_3_bones.JPG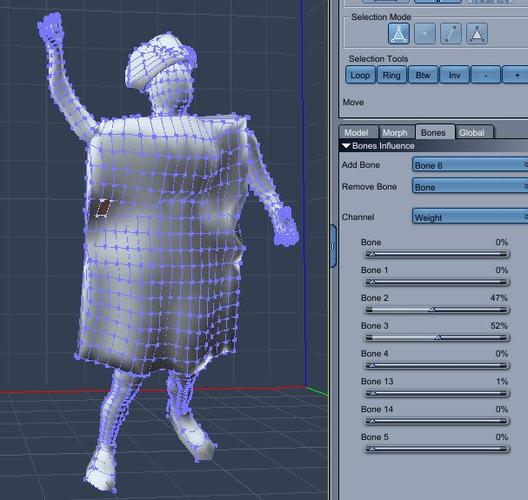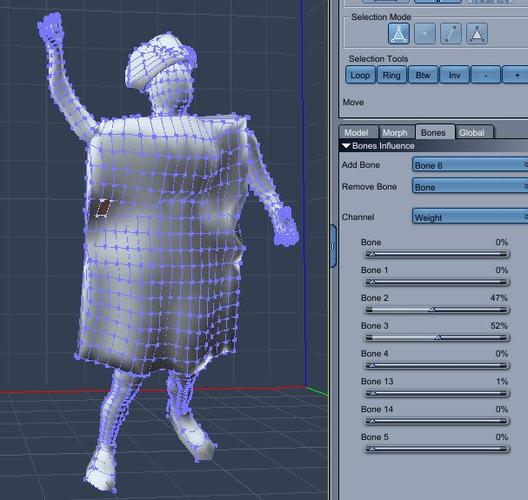 jack_affected_by_8_bones.JPG
Post edited by Diomede on