Genesis 3 Product Line in Poser

philebus
Posts: 230
Genesis 3 Products in Poser
The Genesis 3 figures are not officially supported by the DSON Poser Importer. However, thanks to some software from Willdial (You'll need to search for that freebie at Renderosity), it is possible to make it do so anyway. Now that this range of products is starting to see some very low prices in the sales, it might be worth your considering with some provisos.
Firstly, you will need to be using Windows and Poser 11 – Mac is not supported.
Secondly, there's no guarantee that future versions of Poser will support the DSON plug-in. While converting Genesis and Genesis 2 products to a Poser native format protects those investments, Genesis 3 cannot be converted at this time.
Thirdly, while there were a small number of accessories for Genesis 2 that were not compatible with Poser, even with the importer, there is a much, much greater number of them for Genesis 3 that can't be used – and the only real way to know is to spend your money and give them a go. This is the reason I'm starting this thread, so, like my other thread, some experience of these problems can be shared. One of the biggest bugbears is footwear – you can often force fit the stuff that doesn't quite work, which is mostly OK for me but if you want close ups of footwear, Genesis 3 is probably not your best choice of figure.
Besides a little future proofing, the chief reason for converting the Genesis and Genesis 2 product lines to a Poser native format, rather than to just use the Importer, is for improved performance. Unfortunately, as I mentioned, that isn't an option for the Genesis 3 figures. I have tried running them through the Netherwork's File Optimizer but sadly the process breaks all of the JCMs (the morphs are there but the ERC is gone).
That said, if it were possible, there is another reason that it might not be such a useful direction to take. Genesis 3 figures make a lot of use of JCMs (Joint Control Morphs) and clothing creators don't sculpt these for their products as used to be the case for the pre-Genesis figures – instead, they can relay on Studio's morph transfer facility that can be used in Poser only via the DSON importer plug-in and not be figures converted to the Poser native format. Certainly, Poser 11 Pro does have a morph transfer tool but I don't think the results are up to the job.
At this point, if you want to go ahead with trying Genesis 3 in Poser, please make sure you follow Willdial's advice and install the older Beta version of the DSON Importer. He notes in his guide that three are problems with the geometry under the chin which only occur with the new version of the Importer. However, there is another problem I found with the Female figure – the left side of the expressions were seriously distorted. On top of this, I found that both male and female figures also suffered some strange distortions for the lower eyelids. I found that neither problem occurred with the beta Importer.
So your essential checklist before starting is…

Poser 11 Pro
Windows PC
DSON Importer for Poser Beta (if you have the DSON importer, this should also be in your product library available for download – get it and back it up!). If you already have the later version installed, don't worry, just run the Beta installer and it will uninstall that for you.
Willdial's Genesis 3 Poser Updater (search at Renderosity)
A shedload of time to get things started – but once the foundation work is done, it's done.
Preparation
Fit Control: If you have the Fit Control product or one like it (I highly recommend something like this), then do uninstal before you work to export figures for Poser. After you've completed that job, then you add it back before you start work on exporting clothing items.
A Heavy Figure: I have managed to collect up 23 Base Characters for the Genesis 7 Female, along with some additional morph packs to add function and additional form. This creates the same problem I found with the original Genesis, which, like this one, had so many morphs packed in that it is an unmanageably heavy figure, that weighs so much on performance such that moving an arm becomes an exercise in patience. If you have collected a lot of morphs, then the best answer to this problem is the same as I used for Genesis – the creation of light figures. You need to uninstall chunk of your morphs to create lighter figures that retain the functionality you need. I actually created one for each base, all of which retained the various core body and face morphs, along with those for improved function. You should be able to include a few of the Base Characters into each figure without a great loss in performance though.
Finishing
Once you've run your figures through the Poser Updater you might look at them and wonder why they look so bland. Where's all that detail from the Base Character promos? There are, of course, high definition add-ons for the Base Characters but the detail you see in the Base promos is largely from maps – most importantly, the normal maps. I've mentioned these before in my thread for converting Genesis and Genesis 2 figures and to illustrate, here's the Rune character in Poser's default lighting, first with just her basic texture and subdivision dialled up to 2, and then with the normal maps: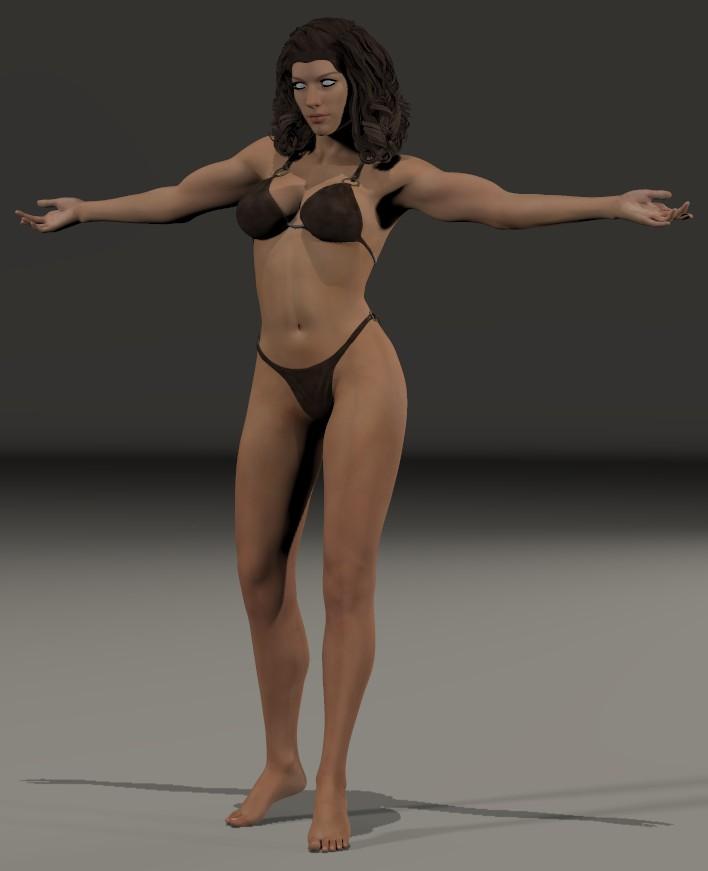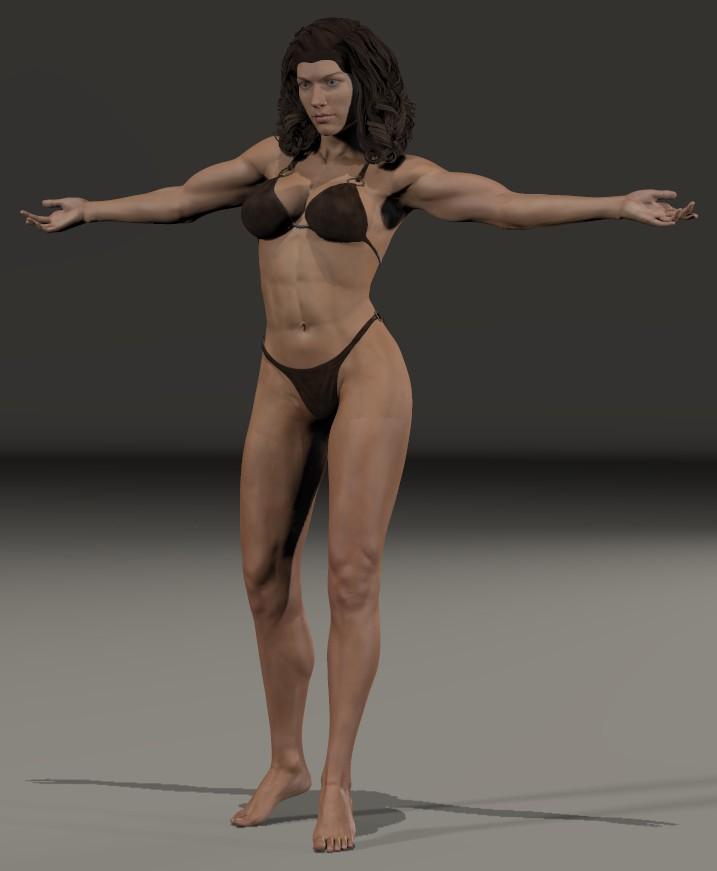 If you think these look a tad 'too much', you would be right – I set my normals maps to 1.5 but not without reason. I'm not rendering for realism but with a view to post-working the image into a faux painting and for that, if I need this sort of detail at all, I need it to be a little exaggerated to prevent it being lost in the process.
Some detail of this kind can also be added from morph packs, such as body tone and the detail for the knees but normal maps are efficient and resource friendly, so if you have them, best to use them.
Note About Expressions
The expression dials do now work well but don't try dialling them up to 1! for some reason, the morphs as intended max out far below that value – often a bit less than 0.5. Dial them up to 1 and you're likely to get a monstrous result.
Table of Products
Over the last year or two, I've been picking up Gen3 items at very low prices in various sales but have only just gotten around to looking at them closely. In the below table, I shall be posting products that I've tried out with notes about how they worked out in Poser. As with my Genesis/Genesis 2 thread, it will be a matter of as and when I've time but I'll make a new post when I update the list so if you're subscribed to the thread, you'll get a notification. For products purchased at DAZ, I'll include links to them in the store, those without links are likely to have been purchased at Renderosity.

Product
Type
Conversion Notes
Betty Outfit
Clothing
The top and bottom both work just fine. The shoes are passable for my needs but they do require a little adjustment (unhide dials and shift around the toe parts, then expect to tidy in post).
Business Suite for Genesis 3 Female
Clothing
Excellent. Everything works well and looks great - shoes and all.
Casual Style for Genesis 3 Female
Clothing
Very nice set indeed - everything works well.
Classic Denim Jumpsuit
Clothing
The jumpsuit itself works well and looks great. The shoes however, are a write off.
Country Girl
Clothing
Very nice - all parts, including the boots, work well.
Cowl Neck Dress
Clothing
Simple item, looks good, works well.
Doctor Coat Outfit
Clothing
The shoes are passable for my needs, the skirt, shirt, and doctor's coat all worked very well.
Firestorm
Clothing
All items work perfectly - this was purchased very recently at DAZ3D but no longer appears in the store for some reason.
Go Go Outfit
Clothing
Nice set, all works perfectly, including the boots.
Hongyu's TankTop
Clothing
Simple item, works perfectly.
Hot Jumpsuit
Clothing
All items, shoes included, work well.
i13 Barista
Clothing
The tie doesn't quite work and is hard to fix - better to select the material and make transparent/invisible. Everything else works well but you will want to edit the textures a tad to eliminate some white seams.
i13 Classroom teacher
Clothing
All works well.
i13 Librarian
Clothing
Shoes work ok(ish) but everything else works well.
i13 Maid Ensemble
Clothing
All works well but you will need to edit the texture a tad to eliminate white seams. Also, select trim material and check Normals Forward.
i13 Modern Cow Girl
Clothing
I did need to adjust the toe of the right boot with x translate but but done, all worked well.
i13 Nurse
Clothing
You might need to adjust the toes of the boots with the bend dial but otherwise, all worked well.
i13 Office Worker
Clothing
Worked well.
i13 Secluded Living
Clothing
All works well.
i13 Server
Clothing
All works well.
i13 Vacation Outfit
Clothing
All works well, save the necklace which looks a little wobbly after morph transfer.
Kitchen OohLaLa
Clothing
Sadly none of the three pieces work at all.
Lace Nights
Clothing
Works well.
M-65 American Icon
Clothing
Excellent item, worked very well.
MA-1 Flight Jacket
Clothing
Excellent item, worked very well.
Marionette
Clothing
Very nice set, all time s work well but the dials for movement in the body parts don't work properly - it's not really a problem though, just select the sleeve and skirt parts and dial their movement directly.
New Semester
Clothing
All worked well except for the short sleeve morph.
New York Essence
Clothing
The shirt, trousers, and shoes all work very well. There are four different versions of the jacket but I'm afraid that only one of them works - it's enought to be useful, so I think the set is still worthy of consideration if you see it on sale.
Peter Pan Collar Dress
Clothing
All worked well, though you will need to edit the textures a tad for white seams.

RainbowLight Bodystocking

Clothing
Nothing imported.
RainbowLight Business Outfit Bundle
Cloting
The blazer and shoes don't import import. The bag is a prop, so no problems there. The dress works fine, save for the back-open morphs (this can be purchased separately).
RainbowLight Dark Knight
Clothing
The belt doesn't import. The feet of the boots are mangled. Because the bodysuit was designed to be used with boots, the legs end short, so you would need some replacement long boots for it - however, it works OK(ish), though to use the open morphs, you will need to make the zipper and zip head transparent/invisible. The gloves and mask work fine.
RainbowLight Elegant
Clothing
All works well (thought he hat takes a long time to load first time and asks for missing pmd file - just save out again or export as a prop instead). The coat was what I really wanted from this and it makes the purchase worth while all by itself.
RainbowLight Fall Outfit
Clothing
Doesn't import.
RainbowLight Hot Fashion
Clothing
All works well.
RainbowLight Loving You
Clothing
All works well.
RainbowLight MODA
Clothing
All works well.
RainbowLight
Clothing
Works well.
Riot Girl
Clothing & Hair

The hocky stick is just a prop, so no problems there.

The parts that all work very well are pants, stockings, boots, shirt, bra, hair, hat, and the version of the blouse that is worn.

There is a version of the blouse that is worn tied around the waist and unfortunately, there look to be some ungrouped polys on the right which render it useless - perhaps someone with more knowledge than myself could fix it but I can't. At the end of the day, it isn't a deal breaker for me. This is a very useable and well made product.

Sana Style
Clothing
Everything works well and looks good, including the shoes.
Sassy Girl
Clothing
Everything works well and looks good, including the slippers
Sexy Kimono Dress
Clothing
Single item, works well and looks good.
Sleepy Nights Gown
Clothing
The slippers work - but sadly not the gown.
Trench Coat Outfit
Clothing
Excellent! Even the boots work very well (though you'll need to bend the toes back in place after applying the provided pose). Really good looking item too.
Vintage Swimsuit
Clothing
Everything works well (the hat and glasses are props).
Wish Granter
Clothing
All worked well.
Women's Suit A
Clothing
Shoes, skirt and top work fine but the jacket, which is why I wanted this, has ungroupled polys on both sleeves, so is of no use.
Yuki
Clothing
All worked well.
Zip Front Rash Guards
Clothing
No footwear in this one. All items work perfectly well.
Female Hair
Well, I'm certainly glad that I made these purchase very, very cheaply and very gradually - because less that half of them work! About 44% and some of those only with some provisos. My testing has been a little hurried to get through this lot - I've checked loading onto a posed character, looked for missing or stretched geometry, applied textures and tried out some morphs.
A note regarding textures - you don't want to spend forever looking for where they are to apply them, so do create poser companion files to apply them. You'll still need to make some tweaks but it gives you a starting place.
All of the below were purchased at the DAZ3D store - I'm not going to link all of these ones but I will come back later and add links to those that do work. Please also note that while I say that I can fix a few in post - I'm post-working into faux paintings, which is very forgiving, while if you are aiming for photo-realism, then you should probably pass on these as well.
That so few of these work in Poser is not the end of the world - there is a time honoured skill known to us old time users, of fitting hair made for one onto another.
| Product | Outcome | Notes |
| --- | --- | --- |
| Aliza | No | |
| Apple | No | |
| Bluebell | No and Yes | Small bit of broken geometry at the back - I can fix it in post |
| Bobbity Bo | No | |
| Careless Braid | No | |
| Casino | Yes | |
| Chace | Yes | |
| Charli | No | |
| Date Night | No | |
| Diesel | No | |
| Double Trouble | No | |
| Dragonfly | Yes | |
| Edwardian | Yes | |
| Eliot | No | |
| Fashion Bob | No | |
| Fayette | No and Yes | Small bit of missing geometry at the back - I can fix in post |
| Flirty | No | |
| Frawn | No | |
| French Twist | No | |
| Garden Party | No | |
| Girly Locks | No | |
| Gizelle | Yes | |
| Gully | No | |
| Havana | No | |
| Helena | No | |
| Idris | Yes | |
| Insurgent Geisha | No | |
| Jade Tiger | No | |
| Juliette | No | |
| Kanshashi | No | |
| Legacie | No | |
| Lena | No | |
| Louise | Yes | |
| Lyam Bob | No | |
| Mada | Yes | |
| Mele | No and Yes | There's some missing geometry at the back - I can fix in post. |
| Midnight Special | Yes | |
| Odessa | Yes | |
| Olenna | Yes | |
| OOT Kyle | No | |
| Orphelia | No | |
| Paisley | No | |
| Pandora | Yes | |
| Rebecca | Yes | |
| Ruby | Yes | |
| Sheridan | No | |
| Sienna | Yes | |
| Streaming | Yes | |
| Sorrow | Yes | |
| Tapered | Yes | |
| Two Phase Bob | No | |
| Wildling | Yes | |
| Yvette | Yes | Scarf hide doesn't work, so you need to use the material room |
| Zarah | Yes | Length dials are a bit iffy but I wouldn't want them for this anyway |




Post edited by philebus on