Genesis 3 Product Line in Poser

philebus
Posts: 240
Genesis 3 Products in Poser
The Genesis 3 figures are not officially supported by the DSON Poser Importer. However, thanks to some software from Willdial (You'll need to search for that freebie at Renderosity), it is possible to make it do so anyway. Now that this range of products is starting to see some very low prices in the sales, it might be worth your considering with some provisos.
Firstly, you will need to be using Windows and Poser 11 – Mac is not supported.
Secondly, there's no guarantee that future versions of Poser will support the DSON plug-in. While converting Genesis and Genesis 2 products to a Poser native format protects those investments, Genesis 3 cannot be converted at this time.
Thirdly, while there were a small number of accessories for Genesis 2 that were not compatible with Poser, even with the importer, there is a much, much greater number of them for Genesis 3 that can't be used – and the only real way to know is to spend your money and give them a go. This is the reason I'm starting this thread, so, like my other thread, some experience of these problems can be shared. One of the biggest bugbears is footwear – you can often force fit the stuff that doesn't quite work, which is mostly OK for me but if you want close ups of footwear, Genesis 3 is probably not your best choice of figure.
Besides a little future proofing, the chief reason for converting the Genesis and Genesis 2 product lines to a Poser native format, rather than to just use the Importer, is for improved performance. Unfortunately, as I mentioned, that isn't an option for the Genesis 3 figures. I have tried running them through the Netherwork's File Optimizer but sadly the process breaks all of the JCMs (the morphs are there but the ERC is gone).
That said, if it were possible, there is another reason that it might not be such a useful direction to take. Genesis 3 figures make a lot of use of JCMs (Joint Control Morphs) and clothing creators don't sculpt these for their products as used to be the case for the pre-Genesis figures – instead, they can relay on Studio's morph transfer facility that can be used in Poser only via the DSON importer plug-in and not be figures converted to the Poser native format. Certainly, Poser 11 Pro does have a morph transfer tool but I don't think the results are up to the job.
At this point, if you want to go ahead with trying Genesis 3 in Poser, please make sure you follow Willdial's advice and install the older Beta version of the DSON Importer. He notes in his guide that three are problems with the geometry under the chin which only occur with the new version of the Importer. However, there is another problem I found with the Female figure – the left side of the expressions were seriously distorted. On top of this, I found that both male and female figures also suffered some strange distortions for the lower eyelids. I found that neither problem occurred with the beta Importer.
So your essential checklist before starting is…

Poser 11 Pro
Windows PC
DSON Importer for Poser Beta (if you have the DSON importer, this should also be in your product library available for download – get it and back it up!). If you already have the later version installed, don't worry, just run the Beta installer and it will uninstall that for you.
Willdial's Genesis 3 Poser Updater (search at Renderosity)
A shedload of time to get things started – but once the foundation work is done, it's done.
Preparation
Fit Control: If you have the Fit Control product or one like it (I highly recommend something like this), then do uninstal before you work to export figures for Poser. After you've completed that job, then you add it back before you start work on exporting clothing items.
A Heavy Figure: I have managed to collect up 23 Base Characters for the Genesis 7 Female, along with some additional morph packs to add function and additional form. This creates the same problem I found with the original Genesis, which, like this one, had so many morphs packed in that it is an unmanageably heavy figure, that weighs so much on performance such that moving an arm becomes an exercise in patience. If you have collected a lot of morphs, then the best answer to this problem is the same as I used for Genesis – the creation of light figures. You need to uninstall chunk of your morphs to create lighter figures that retain the functionality you need. I actually created one for each base, all of which retained the various core body and face morphs, along with those for improved function. You should be able to include a few of the Base Characters into each figure without a great loss in performance though.
Finishing
Once you've run your figures through the Poser Updater you might look at them and wonder why they look so bland. Where's all that detail from the Base Character promos? There are, of course, high definition add-ons for the Base Characters but the detail you see in the Base promos is largely from maps – most importantly, the normal maps. I've mentioned these before in my thread for converting Genesis and Genesis 2 figures and to illustrate, here's the Rune character in Poser's default lighting, first with just her basic texture and subdivision dialled up to 2, and then with the normal maps: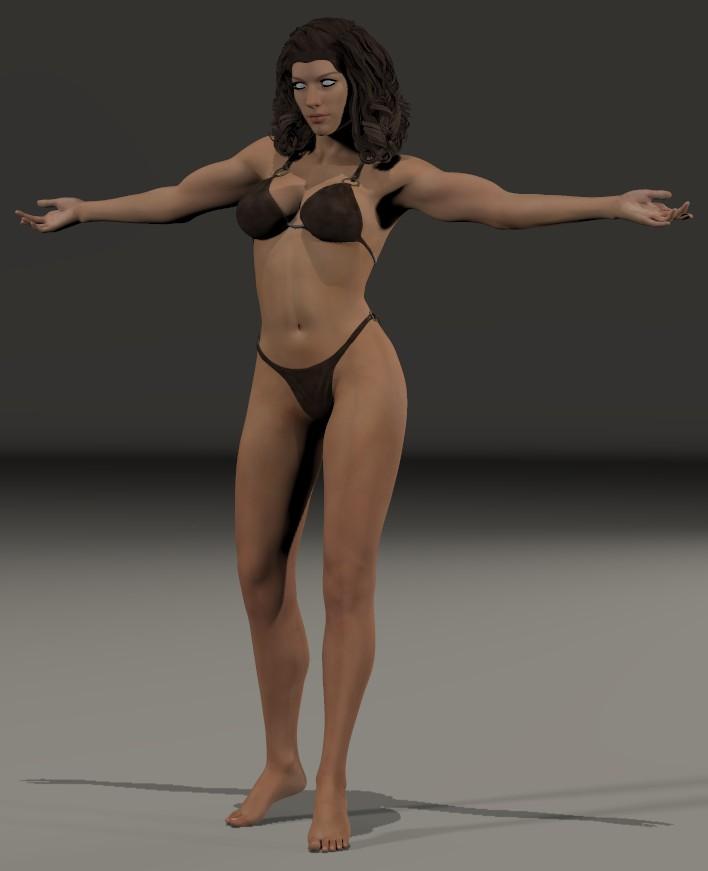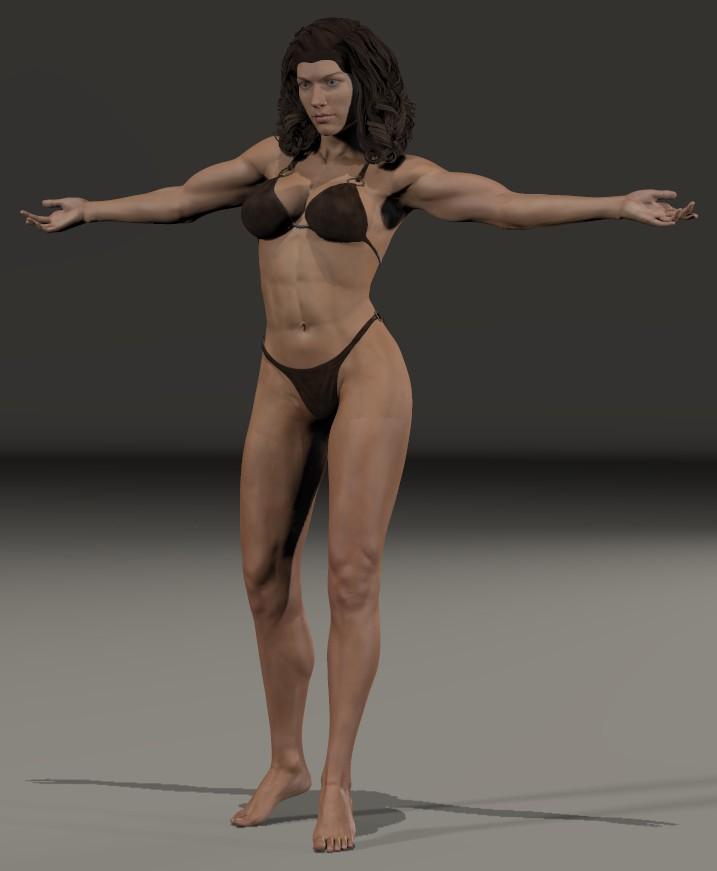 If you think these look a tad 'too much', you would be right – I set my normals maps to 1.5 but not without reason. I'm not rendering for realism but with a view to post-working the image into a faux painting and for that, if I need this sort of detail at all, I need it to be a little exaggerated to prevent it being lost in the process.
Some detail of this kind can also be added from morph packs, such as body tone and the detail for the knees but normal maps are efficient and resource friendly, so if you have them, best to use them.
Due to restrictions in the size of posts, I've split off the tables of tested products into the following three posts. I'll be updating this post with a more detailed tutorial over the weekend.




Post edited by philebus on