Brekel Kinect Pro Body Motion Capture to Carrara Experiment Problem - SOLVED

Joepingleton
Posts: 746
View the corrected motion capture animation on YOUTUBE.COM by clicking here.
I think I found a simple solution to the biggest problem I have been having using Brekel Kinect Pro Body Motion Capture and Carrara Pro 8.5. Thanks to Jasper Brekelmans response on the Brekel Kinect Pro Body Motion Capture forum. This experiment is pure motion capture with no key frame animation or math. =)
His response was "The reason why the hips appear floaty is because of the way the retargeting is done in Carrara/Daz/Poser.The Kinect does it's tracking by identifying bodyparts by looking at pixels in the 2D depth space and then relating them into 3D. This has the advantage of being very quick so it can be done in realtime, but it also means the limbs can have small variations in length."
The technique used to correct this problem was simple once I learned more about how skeletons work in Carrara. The process is as follows:
1. Capture Motion with Brekel Kinect Pro Body
2. Save as a BVH file in 3D max Biped format
3. Open Carrara Pro 8.5 and insert a Genesis Figure from Content Library
4. Import the BVH file with "create new skeleton" selected
5. Scale the imported skeleton to the size of the genesis figure.
6. Select the "hip" bone of the Genesis figure and change the Modifier from "IK Terminator" to "Inverse Kinematics"
7. Set the "object to track" to the New skeletons "hips"
8. Select the genesis figures "hips" and Import the BVH file with "Apply to select skeleton" selected.
Now the hips do not float as they are linked to the BVH new skeleton's hips and the feet will contact the ground.
There are still problems but the motion now looks a lot more solid. Hopefully this information helps others to avoid my mistakes.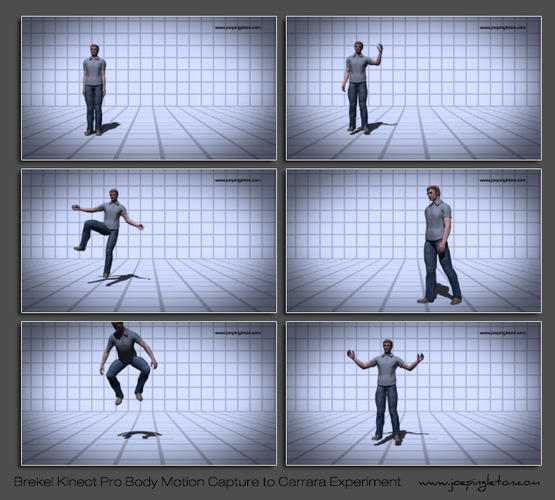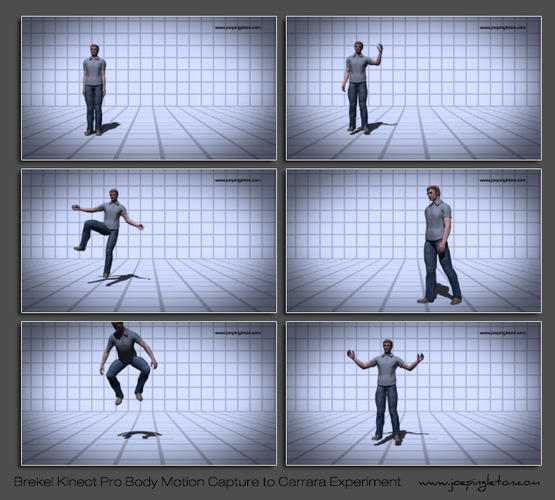 Post edited by Joepingleton on