Content Creator Series: Drum Set - Now Available! (Commercial)

Bluebird 3D
Posts: 995
Check out the overview video here:
Content Creator Overview Video
Thinking about creating 3D content for use in DAZ Studio in Poser? Not sure where to begin? I get that. This Content Creator Series will give you a detailed look of how the Drum Set props were created for distribution at the DAZ marketplace. I demonstrate how I went from a blank scene to a finished product that is compatible with both DAZ Studio and Poser software. This is a roadmap for intermediate users. The entire process is broken down into main 8 segments.
Learn how to:
1. Gather Reference Images
2. Model the Set using common modeling tools available in -your- modeling program
3. Create the Textures & Material Surfaces
4. Build the Props in Poser
5. Build the Props in DAZ Studio
6. Approach Promo Renders
7. Package the Props for Distribution
8. Prepare for Uploading to the DAZ Submission System
Included for You in .PDF Format:
1. Common Modeling Tools - Once you find these in your own modeling program, you can create along with me.
2. Project Workflow - You'll want to save this one in an easy to find location and refer to it on every product you do.
And Two Bonus Videos:
1. See where to get excellent Photoshop Brushes & Texture Resources
2. Add to your training with high quality resources from 3D Game & Movie Professionals
How many times have you asked yourself exactly how to make props that are natively compatible with both DAZ Studio and Poser?
How often have you gnashed your teeth at the lack of fresh documentation that simply explains what to do in plain, non-technical language for artists? Consider this video training series the guiding hand you've been missing.
I'll share a secret...
It isn't just about the modeling. It is your knowledge of what to do with those models and how to get them into the hands of your customers that matters.
This stuff isn't easy.
This field will introduce you to more challenges and mental brain teasers than you may have seen coming. It takes time, discipline and loads of practice to go from beginner to making money from your creations.
So give yourself a helping hand.
My content creation pipeline is now available for you to follow to your heart's content. Watch it, learn it, practice it and make whatever you want from it. I'd much rather compete with you based on artistic talent than on your lack of technical knowledge. If I can inspire you to earn your first dollar on one of your own creations, I will consider this training series a complete success.
See you on the other side!
~Bluebird
Additional Information
The software shown in this video training series is as follows:
Autodesk Maya 2014, Adobe Photoshop CS6, DAZ Studio 4.6, Poser Pro 2014. You are not required to purchase software in order to watch the material presented. However, some familiarity with your own modeling program and a graphics editor will be useful. This series was created with the assumption that the viewer will at least have an understanding of how to load and render existing content in DAZ Studio and/or Poser for their personal use before they begin the process of creating content for sale.
Feature List
Content Creator Series: Drum Set Videos (.MP4, Resolution 1920x1080, ~12 Hours Total)
1. CCS Phase 1 - Research & Prep
2. CCS Phase 2a - Modeling
3. CCS Phase 2b - Modeling, continued
4. CCS BONUS 1 - Brushes & Resources
5. CCS Phase 3 - Texturing
6. CCS Phase 4 - Poser Build
7. CCS Phase 5 - DAZ Studio Build
8. CCS Phase 4b & 5b - Materials
9. CCS Phase 6 - Promo Render Tips
10. CCS Phase 7 - Packaging
11. CCS Phase 8 - Uploading
12. CCS BONUS 2 - Additional Resources & Wrap Up
Content Creator Series: References (.PDF)
1. Common Modeling Tools
2. Project Workflow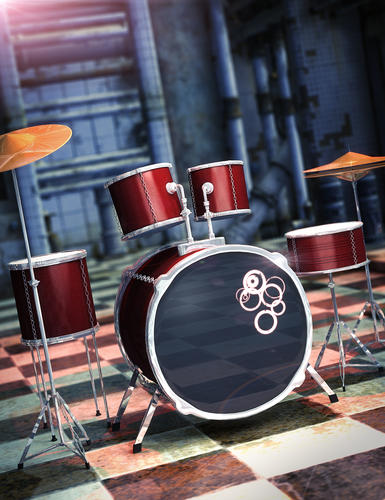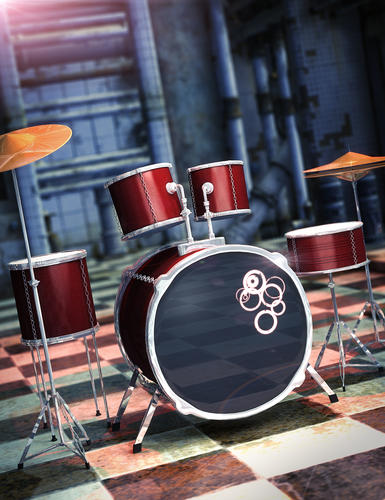 Post edited by Bluebird 3D on