Cumulus S3D Puffy Cloud Plugin

Sparrowhawke3D
Posts: 98
You can now download the Cumulus S3D volumetric cloud shape plugin from my website. This adds a new shape to the list of the volumetric cloud primitive.
There are a lot of parameters in tabs to control various aspects of the cloud. Most of these are explained in the user manual. I've created some presets which you can copy into your objects browser to help get going.
The plugin creates up to 9 cumulus clouds within the one volume. Settings can be used to change how regularly they line up in rows and random size ranges for width and height. When the sizes are increased toward the maximum the clouds will fuse into a larger cloud.
These clouds are more complex than the existing shapes and therefore slower to render. If you have a large number of clouds or a maximum detail cloud in a scene there will be pause before they are rendered as Carrara builds the lighting cache. Don't be afraid to turn up the quality settings though but using Global Illumination with the clouds won't see much improvement.
I'm not sure if the Cumulus S3D will work with any 3rd party rendering plugins.
When the clouds are animated the puffs move in fairly realistic cyclic rolling patterns. This means the plugin doesn't need to run a simulation and you can change the animation time freely. There is an Evolution slider to have the clouds start out as wisps and then take shape. At the end of their evolution they dissipate.
This example video shows an animated cloud.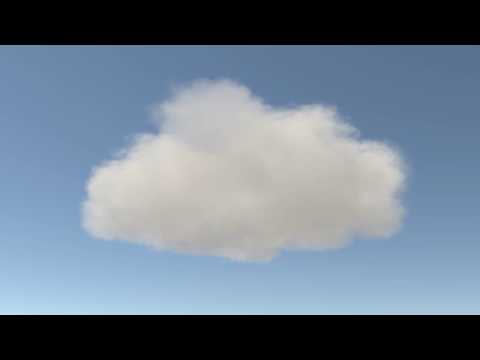 Post edited by Sparrowhawke3D on