Try making 3D sewing pattern envelopes to offer later as freebies, hopefully

launok
Posts: 762
Recently an idea came up to create a 3D shop selling sewing stuff. Then I was thinking also of get free models such as sewing pattern envelopes. I could not find any and search for an envelope that will fit in. I found a model at Sketchup Warehouse that fits more or less a sewing pattern envelope. But then, how to get it textured was another question.
I got a link on YouTube to add one's own textures on Sketchup models, in this case how to add texture to bag of crisps. I followed it (with extra help from forums) and the result is as the image attached. It was not easy for a beginner with limited knowledge of the software too! Guy91600 from Renderosity gave me permission to use his free clothing sets on my images.
I still have to do the back part of the envelope. Tested and rendered in Bryce. I have used an .obj but how do I save it for use in Bryce when offered it to Brycers? Do I just save it directly as .obp? I have never done this before.
If I have success and people will be interested, I will make more different envelopes to share as freebies.
Laura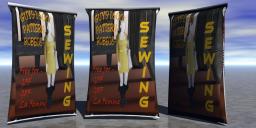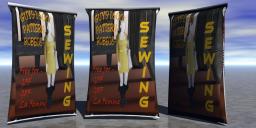 SEWING PATTERN SAMPLE1.jpg
Post edited by launok on