[Released] Anderson for Genesis 8 Male [Commercial]

FaberInc
Posts: 155
Released!
https://www.daz3d.com/anderson-for-genesis-8-male​
Watch out, boys! A real man has arrived.
Anderson is a new mature character with a Scandinavian look and a strong enviable body created for Genesis 8 Male. Because wrinkles don't come alone, he's an experienced man with many faces and talents for any kind of scenes and roles; From a sexy expressionist painter to a one-eyed sci-fi villain. The possibilities are endless.
Anderson for Genesis 8 Male features HD sculpted face and bodybuilder shape, custom Anatomical Element morphs, photo-realistic skin, hand-painted details, and piercing eye color options.
Please feel free to ask any question you might have regarding this product.
and I would LOVE to see what you can do with him!
Thanks!


AndersonforGenesis8Male_main.jpg
AndersonforGenesis8Male_popup_01.jpg


AndersonforGenesis8Male_popup_02.jpg
AndersonforGenesis8Male_popup_03.jpg
AndersonforGenesis8Male_popup_04.jpg


AndersonforGenesis8Male_popup_06.jpg


AndersonforGenesis8Male_popup_05.jpg


AndersonforGenesis8Male_popup_07.jpg


AndersonforGenesis8Male_popup_08.jpg


AndersonforGenesis8Male_popup_09.jpg


AndersonforGenesis8Male_popup_10.jpg


AndersonforGenesis8Male_popup_11.jpg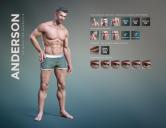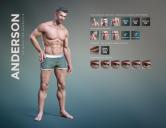 AndersonforGenesis8Male_popup_12.jpg