Professional Comic Book Foundation Course Series (Drew Spence & Digital Art Live)
Griffin Avid
Posts: 2,936
Join us for a special two part foundation set of webinars to assist you in producing your comic. These two webinars will give you a great overview to help you get started. Presented by Drew Spence, the creator of the Force Six Annihilators comic series.
This foundation comic creation course is perfect if you are wondering of HOW to get started with ideas, tools and general workflow.
PART 1 Planning and Plotting : Sunday the 26th of August
Commences 20:00 BST (London)/15:00 EDT (New York)/12:00 PDT (Los Angeles)
Duration: 1.5-2 hours
Planning and plotting, before you start drawing and rendering.
– Steps to success at no (or minimal) cost.
– Doing it all yourself and the many hats of Writing and Illustrating
– Overview and Vision
Synopsis – What will I be reading and experiencing?
Pitch Points and the one sentence elevator pitch
Short story slices of life as episodes, issues and side quests.
Long planner for what will happen if you get a full run?
– My Genre
– My Audience
– My research, my resources
PART 2 Story Telling and Sequential Art : Sunday 2nd of September
Commences 20:00 BST (London)/15:00 EDT (New York)/12:00 PDT (Los Angeles)
Duration: 1.5 -2 hours
Story telling and selling a story about sequential art
– Deconstructing the narrative.
– Reinventing the Wheel
– Templates, Libraries, Actions and Presets.
– Saving and archiving assets and notes (for location and regeneration)
– Time framing and real time versus creative time..
– Panels and Page planning.
-------------------------------------------
It's going to be a live webinar that will be broken down into a tutorial series about making comics using Daz and Daz assets.
Here is the trailer for the webinar series.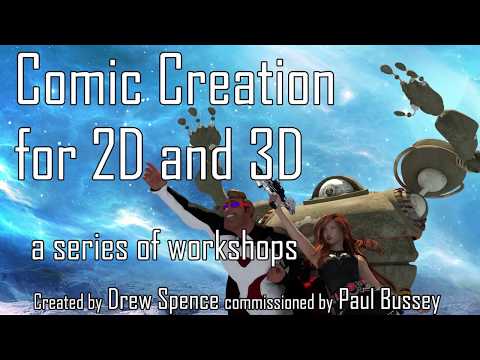 Post edited by Griffin Avid on