Twitch Stream about using DAZ Studio and ZBrush to make 3D Printable Miniatures!

Valandar
Posts: 1,417
Yeah, yeah, I decided to stream.
Basically, what this stream is about,is I have made an original geometry male and female figure, and lots of props for them. I load in the figure in DAZ Studio, and load in the props, then I take the result in ZBrush and sculpt on clothing, armor, hair, and the like, and convert it into a tabletop miniature you can print on a home 3D printer. Very often, I'll take requests from the audience, as well, to determine what to make.
The primary stream is on Sundays, at 8 PM Central US time. On Sundays is when I usually sculpt a full figure, and the result will be available as a free download on Thingiverse.
Thursdays at 8 PM Central Time is more of a 'utility' stream, where I make more props and weapons, as well as further FBM's for the figures to better represent other races, humanoid monsters, and the like.
The address for the stream is: https://www.twitch.tv/valandarthered  , and below are a couple sample prints of these miniatures. They are printed on a moderately inexpensive FDM printer, showing what you can do without a super expensive resin printer.
Please be aware my camera is potato. The prints look a LOT cleaner in person. :P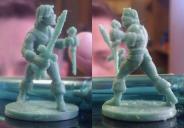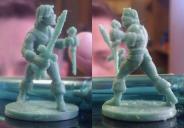 Post edited by Valandar on