Help Can't install DS

Artbyphil
Posts: 80
I decided to update to the latest version of daz but the installation just hung on installing content management service for ages. I decided to try and go back to the previous version but get this error message (see image)
which I have never had before. I tried the ignore option but still get the hanging on installing content management service.
I've also tried disabling my antivirus (avast) in case it was that but that didn't help
Desperate here so any help will be much appreciated.
cheers.
Update: well I tried the latest installer again and though I got the error message it seems to have installed I now get a different message though when I open DS (see image) I assume the content management service did not install correctly. Does anyone know what I can do about this?
Update 2: Ok I installed the PostgreSQL CMS which seesm to have done the trick. strange I can't remember having to do that in the past whan I have updated. As it changed with this update?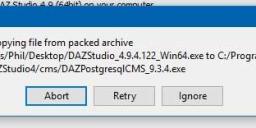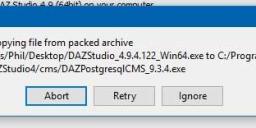 Post edited by Artbyphil on