Black lines on hair skull cap [Solved]
rames44
Posts: 253
Iray render, using the Rochelle ponytail. All of a sudden in a new render, this black stuff is showing up. Same figure and hair I've used in plenty of other renders without this happening.
I've tried removing and re-applying the hair, and also deleting and re-importing the figure I've been using into the scene.
Any idea what's causing this and how I fix it?
EDIT: A friend told me that this is an issue of the skull cap incorrectly interacting with the figure's head, and that it can be solved by using adjustments on the hair. In my case, I discovered that if I changed Hair > Actor > Adjust-CheekR and Adjust-ForeheadDepth to a few percent negative, the issue went away. Only thing I don't understand is why it just suddenly showed up, but, well, I guess that's Iray... lol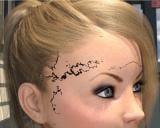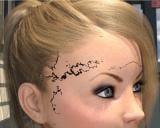 Post edited by rames44 on