SAV's Kouros Expansion pack by RAMWorks for DS 4.5 IS HERE!!
It's here, RAMS Kouros pack:

URL: http://www.ramwolffsworld.com/3D_Directory/Packs/RAMSKourosPack.zip

ReadMe file:

You can find Kouros hair by StudioArtVartanian here:
http://www.renderosity.com/mod/bcs/kouros-hair/89981

This is an expansion pack for the hair created and shared freely from RAMWorks Studios':

"RAMS Kouros"

This works ONLY IN DAZ STUDIO 4.5 and up. If you are prolific in Poser and wish to convert these to share please notify me to let me know your intentions and desires. You can find me on the DAZ3D forums most of the time, PM's are fine or post in the freebie thread for this pack on the DAZ forums.

Usage Rights:
You may use these material mats for personal and commercial RENDERS. This expansion is free and is to remain free. Please respect this!! Also please do not assume that it's OK to use the textures for other packs, free or paid for, this is NOT OK! If I find that these textures have been used without my consent in any way other than their intended use (for this pack) I will take action!!

The pack contains 23 hair colors ranging from blonds to blacks and funky colors like Oceanic and Fire to name a couple all created by hand by me. There are also 23 pin and gem color combinations making use of the textures included with the Kouros Hair pack. It's amazing what can be accomplished using surfaces channels. There is also a desaturated copy of the scalp texture from the original pack included WITH PERMISSION from the creator/merchant of Kouros Hair so my textures look their very best.

If you wish to convert the main hair to Genesis, which is what I did, you can easily achieve this using the Transfer tool. Steps follow:

1: Load up Genesis, in the Scene tab click on an empty space to deselect Genesis
2: Load up Kouros Hair from your Poser Runtime "Character" folder. I loaded up the M4 version!
3: In the Scene tab there is a little box up at the right corner with lines through it, click that. Down where it says Edit > Convert Figure to Weight Mapping and leave at the Default TriAx
4: Scene tab menu again, Assets > Transfer Utility. Now for the fun.
a: Source: Scene Item: Genesis
Item Shape: Clone, a dialog will pop up, choose Michael 4 (or Victoria 4 depending on which version of Kouros hair you decided to load up)
b: Target: Scene Item: Kouros Hair
Item Shape: Default (leave this setting alone for this transfer)
5: Projection Template: Hair> Long

Show Options, click this to expand

6: Leave all checked that's checked but also check "Reverse Source Shape From Target" and "Add Smoothing Modifier"
7: Click: Accept and let it run.

Once this is finished then you need to save this out as a .duf file.

8: File> Save As> Support Asset fly out and choose the top most item in the menu: Figure/Prop Assets
9: Save dialog will come up.
a: Name the Vendor Name: SAV
b: Name the Product Name: KourosHair
c: Leave the "Item Name" filled in as it is!
10: Click Accept.

I've included a copy of the original png for the saved hair in the My Library:People:Genesis:Hair:SAV:Kouros Hair folder. This is where you want to save the converted hair so you don't have to go hunting around for it. In the sub folder is the Materials folder where my presets for the hair are as well!

Hope that helps.

Please enjoy my work as I had a blast making these for you.

Best,
Richard (RAMWolff, Wolffie) :coolsmirk: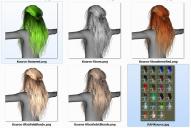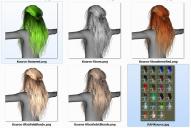 Post edited by RAMWolff on