Sketchy - Toon and Art Style Shaders for Iray [Commercial]

DimensionTheory
Posts: 434
I've just finished work on a new shader that I think a few of you will be excited about. The Iray Toon Shader brings some new features to Iray that will help you with rendering cartoon styles and other art mediums like sketch and print.
http://www.daz3d.com/sketchy-toon-edge-and-art-style-shaders-for-iray
This set contains a suite of presets built around a custom art style shader for Iray, designed to introduce a wide range of non-photorealistic effects to your renders! Everything from magna and old school print, anime and rough sketching is possible with more than 330 presets and modifiers available. Quickly add thick outlines to the outside edges of your models then blend things together with some cross hatching. Two layers of outline add versitility you can use to produce numerous unique multi-tone cell shaded illustrations.
Custom Art Style Shader

Two layers of outline
Quickly modify edge thickness
Projected drawstyles work across all UVs

80 Full Shader Presets

6 Basic Toon
6 "Circle" Draw Styled
6 "Crosses" Draw Styled
6 "Cross Hatch" Draw Styled
6 "Dashes" Draw Styled
6 "Dots" Draw Styled
6 "Hexes" Draw Styled
6 "Lines" Draw Styled
6 "Pixel Grid" Draw Styled
6 "Pixels" Draw Styled
6 "Sketch" Draw Styled
14 Mixed Medium

114 Solid Color Base Diffuse Options
59 Toon Diffuse Modifiers (Layer One Outline)

2 Enable/Disable Options
6 Darken Base Diffuse Options
7 Diffuse Edge Strength Options
7 Diffuse Edge Contrast Options
11 Diffuse Normal Options
26 Color Options

53 Toon Outline Modifiers

2 Enable/Disable Options
7 Outline Edge Strength Options
7 Outline Edge Contrast Options
11 Outline Normal Options
26 Color Options

30 Draw Style Modifiers

10 Diffuse Draw Style Types
10 Outline Draw Style Types
10 Draw Style Scale Options

Neutral Lighting Options

1 Solid White Environment Map 32x32
1 Gradated Environment Map 1920x1080

Draw Style Textures
New features overview PDF https://www.dropbox.com/s/lj3xn9dtjk4qq1s/Iray%20Toon%20Shader.pdf
Temp fix for UV issues on Full Presets Basic A-F and Sketch A-D https://www.dropbox.com/s/lkvd468jm6y4357/DTTS - Fix For Full Shaders.zip


01_Sketchy_Iray_Toon_Shader_Main_Image.jpg


02_Sketchy_Iray_Toon_Shader_PopupA.jpg


03_Sketchy_Iray_Toon_Shader_PopupB.jpg
04_Sketchy_Iray_Toon_Shader_PopupC.jpg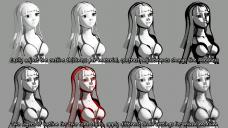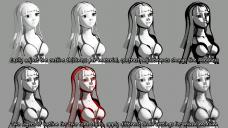 13_Sketchy_Iray_Toon_Shader_PopupL.jpg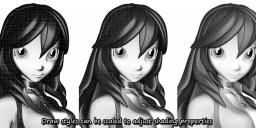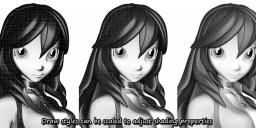 12_Sketchy_Iray_Toon_Shader_PopupK.jpg


07_Sketchy_Iray_Toon_Shader_PopupF.jpg


05_Sketchy_Iray_Toon_Shader_PopupD.jpg
Post edited by DimensionTheory on