G1M4 DreamQuest Chest Piece.

Blackbirdx61
Posts: 265
I've asked a good few Questions here this week, so I thought I would share the results so far. I'm Moding the S37 Dreamquest Armor at Renderosity for use with a male toon. https://www.renderosity.com/mod/bcs/dreamquest-armor-for-v4/83298/ The Bikini top is silly enough on v4 but on a male toon; still the rest of the set looks real good and serious.
I flattened a cube down to a plate then bent/tweeked it into shape Hex b4 Welding. The Result looks real good imported, but does not yet move smoothly with the toon. I'llHave to figure how to get that better; and those Sharp corners need hammering down. I'll be using the piece for Orc/Gnoll Armor. I think it has a nice Salvaged look to it. So for a hamhanded first try at Hex. Im pretty happy with results, so far!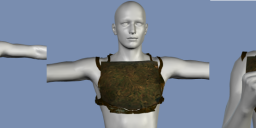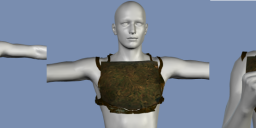 Post edited by Blackbirdx61 on