Planet Explorer for G2 texture failure and render issues (DAZ not interested)(solved)
blindman
Posts: 22
I bought the planet explorer suit for an animation story I am creating in Carrara. I have however discovered that conforming the suit to a character screws up the texture lke the geograft issue with G1 and increases render times for no apparent reason, so I raised a help ticket.
The response from DAZ was clear they are only interested in the products they sell workig in DAZ studio.
During the conform the suit auto hides the respective character parts and I suspect this is what might be causing the issue. So I made a request to Daz if they would be willing to contact the vendor and apprise them of the probem to see if they would be willing to provide a version of the suit that does not auto hide the conformed too figure parts to test this theory . So far no reply on this...........
If anyone know how to fix this great.
Here's the content of the help desk conversation
######################
Jared Nielson, Aug 18, 16:19 MDT:
Hi John,
Thanks for sending that info. Unfortunately there isn't anything I can tell you to get the suit to work in Carrara. We test our content in DAZ Studio and can guarantee it will work in that. We don't guarantee that it will work in Carrara though. Usually it will, but there is the odd exception. My guess is that there is something with that UV set that Carrara doesn't like.
At this point I can offer two suggestions. The first would be to ask in the Carrara forums if anyone else has experienced an issue similar to this and if/how they fixed it. The second would be that if you purchased the product for use in Carrara that you can return the product for a refund if you are within the 30 day return window or for store credit if you are not.
I wish I had more information for you,
Jared
John Sharman, Aug 18, 02:21 MDT:
This should answer some of your questions
Regards John
Also see the attached videos
Originally I created a scene in Studio because I needed to use the auto-conform on the suit to conform it to a G2 female. then imported the DUF into carrara. However when
the issue with the texture arose, I opened an empty medium default scene in Carrara then pulled the basic G2 male and the suit into the scene from the Browser. the texures
in both cases where applied automaticly. this is the file you have.....
I have tried removing the textures but this still causes the render times issue, When rendering in Carrara a default medium scene holding a character fitted with conformed
clothing that has been animated renders quite quickly the first frame takes a second or two but all following frames start immediatey after, This holds true for the
planet suit as long as it's not conformed. However once the suit is conformed there is a significent delay before each frame begins to render then the frame takes longer to complete .
I have run some tests on a one second animation to lower arms to side, each scene uses the default settings and only contains the assets in shot.
here are the results
video 1 Planet suit only :- Render time 60 seconds
Video 2 Planet suit and G2 male suit unconformed :-Render time 99.5 seconds
Video 3 Planet suit and G2 male suit conformed :- Render time 136.6 seconds
Video 4 Cowboy pants, shirt and vest conformed to G2 male :- Render time 72.25 seconds
Video 5 G2 male only :- Render time 44.9seconds
Conclusions
Video 5 scene renders 52% faster yet contains 4 figures with a poly count of 40106 over Video 3 with 2 figures with a poly count of 35298.
This shows that the Planet suit when conformed causes both UV issues in regard to the texture and computational issues for rendering. The texture issue during conformation presents itself in a similar way the the geograft issue with G1 character.
Conforming the suit makes the respective G2 body parts invisible not sure how this is done in Carrara as it doesnt use the visibility check box under the general tab. this might be the cause of the longer render times as Carrara tries to resolve rendering polygons that should be visible but arnt
The longer rendering issue is present with or without textures while the suit is conformed. It's not a texture issue.
Attachment(s)
Test Videos.rar
Jared Nielson, Aug 16, 13:37 MDT:
Hi John,
How did you apply the material you are using in the scene? The reason I ask is that I'm unable to apply that particular material preset in Carrara. I'm wondering if the issue might be in how you set the surface up.
Jared
John Sharman, Aug 14, 09:04 MDT:
Seems the file is to big to upload without it timing out
Heres the file in a 6 part Archive
Regards
John
On Thu, 11 Aug 2016 18:14:00 +0100, Jared Nielson (DAZ3D Help Center)
<[email protected]> wrote:
> S
Attachment(s)
planet explorer suit.part1.rar
planet explorer suit.part2.rar
planet explorer suit.part3.rar
planet explorer suit.part4.rar
planet explorer suit.part5.rar
planet explorer suit.part6.rar
John Sharman, Aug 14, 08:47 MDT:
Both the image and car files were attached to the file I sent. My sent box shows the email with both files still attached and successfully delivered
I've tried uploadig it directly to here but it keeps saying "
the upload took to long connection was lost" seems it's to big a file
So i've zipped it into a 6 part archive
Regards
John Sharman, Aug 14, 08:47 MDT:
Both the image and car files were attached to the file I sent. My sent box shows the email with both files still attached and successfully delivered
I've tried uploadig it directly to here but it keeps saying "
the upload took to long connection was lost" seems it's to big a file
So i've zipped it into a 6 part archive
Regards
Attachment(s)
planet explorer suit.part1.rar
planet explorer suit.part2.rar
planet explorer suit.part3.rar
planet explorer suit.part4.rar
planet explorer suit.part5.rar
planet explorer suit.part6.rar
John Sharman, Aug 14, 08:47 MDT:
Both the image and car files were attached to the file I sent. My sent box shows the email with both files still attached and successfully delivered
I've tried uploadig it directly to here but it keeps saying "
the upload took to long connection was lost" seems it's to big a file
So i've zipped it into a 6 part archive
Regards
Jared Nielson, Aug 11, 11:13 MDT:
Hi John,
It appears you've only uploaded a render of the scene. I need the actual scene file itself. It should have a .car file extension.
Thanks,
Jared
John Sharman, Aug 11, 04:22 MDT:
Sorry for the delay I've been away from my PC
Here is the file you requested along with an image of the conformed suit
using the Carrar file attached
Regards
John Sharman
Attachment(s)
Planet explorer conformed.bmp
Jared Nielson, Aug 8, 14:57 MDT:
Hi John,
This isn't something I'm able to reproduce in Carrara. Could you send me the .car scene file?
Jared
Cristina Galloway, Aug 8, 09:01 MDT:
Thank you for contacting Daz 3D Sales/Tech Support.
We strive to answer all e-mail support requests as soon as possible. In the meantime, please feel free to take a look at the commonly asked questions and links below. If you should find the solution, please make sure to let us know and solve your ticket.
We will get back to you shortly!
Thank you
DAZ3D Team
COMMONLY ASKED QUESTIONS
- Having a hard time locating your serial number(s)?
https://helpdaz.zendesk.com/hc/en-us/articles/207531733
- Install Manager cannot find a required path...
https://helpdaz.zendesk.com/hc/en-us/articles/208696966
- Need more information on setting up the Install Manager?
https://helpdaz.zendesk.com/hc/en-us/community/posts/204120233-DAZ-Install-Manager-FAQ
- Having issues installing Bryce 7 Pro?
https://helpdaz.zendesk.com/hc/en-us/articles/207528793
OTHER COMMON ISSUES
- "Daz Studio cannot establish a valid PostgreSQL connection" error.
https://helpdaz.zendesk.com/hc/en-us/articles/207812393
- Cannot Sign Into Daz Connect and I Get a Login Failure in Daz Studio 4.9
https://helpdaz.zendesk.com/hc/en-us/articles/207496406
- Daz Studio Crashed
https://helpdaz.zendesk.com/entries/25537469-Bug-Reporting
John Sharman, Aug 6, 10:39 MDT:
Another issue is once you waited 30 seconds for the render to be done if you rotate te camera and re-render it renders in about 3 seconds. However if you move the character in the scene, your back up to a 30 second render time. This does not happen without the planet explorer suit in the scene
John Sharman, Aug 6, 06:08 MDT:
Planet Explorer for Genesis 2 Male(s)
loading this into Carrara scene as an unconformed item it renders OK
However if it's conformed to a figure the suit texture map is screwed up and can increase the render times by a factor of 10.
Removing the texure does not fix the long render times either
Image "Planet explorer suit 2" which contains G2M and 2 suits both uncomformed rendered in 3 seconds
Image "Planet explorer suit" which contains G2M and 2 suit with one conformed to G2M rendered in 11 seconds with or without the texture applied to the conformed suit
Importing a duf from studio causes the problem
The problem also exists with the boots and gloves from this product
This makes this product useless in Carrara
If products dont work in Carrara this should be stated in the product description
Attachment(s)
Planet explorer suit.bmp
Planet explorer suit2.bmp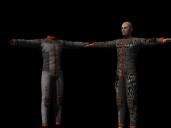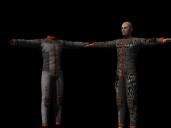 Post edited by blindman on