Released : Iray Light Manager PRO (Commercial)

V3Digitimes
Posts: 2,689
Iray Light Manager PRO is now available : http://www.daz3d.com/iray-light-manager-pro
Modify, adjust or optimise all your Iray lights sets, whatever they are (lights, surfaces, environments, mixing of all that..) in the blink of an eye thanks to this all in one light control interface.
Thanks to this tool, setting up or modifying a light set will be a pleasant, efficient and easy task!
This Light Manager offers a synthesis of all the lights present in your scene in tables, and control over the key properties of each light via these tables. Not only it will save a lot of time and efforts, but also you'll have better lights at the end.
Better lights? Yes, surpriiise ! That's a nice side effect! Because, WITHOUT this tool you spent too much time swapping from one light to another, from one light property to another light property, and then eventually you came back to environment light, or to emitting surfaces and emitting surfaces properties, emitting surface after emitting surface, and maybe tweak a bit exposure value, and so on, and so on, and then you may have do all the stuff again and again because you don't have the right balance, or the right ambiance (mood). Well it was BEFORE. NOW TODAY instead of all that, you have your lights and all their properties you generally use in a synthetic table, allowing you to modify lights more efficiently and while keeping a synthetic view of all the lights. You benefit a global view and control of the lights in your scene.
Many more functions and sub-tools are included in the interface to make your life easier and your set up more pleasant, amongst them exposure value, draw mode, camera choice, and if you want to preview your lights in a different way, a tool to change the perspective view in a smart way around any object you pick up. You can also change lights properties collectively if you want to.
Both complex and simple lights sets will benefit of the powerful features of Iray Light Manager Pro.
Here are a few images of what can be easily done. All lights set ups were changed in a few clicks (click on images to enlarge).
Please use this thread for questions, remarks, feedback.
edit : It is compatible with all Daz Studio version above DS 4.8.0.59 (including DS 4.8.0.59)


Light Manager Pro 1 result example 2.jpg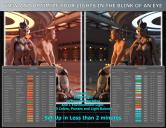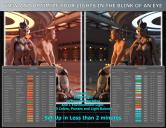 Light Manager Pro 1 result example 0.jpg


Light Manager Pro 1 result example.jpg
Post edited by V3Digitimes on