Tutorial: Adding Surfaces and Striped Texture to a T-Shirt
RGcincy
Posts: 2,755
This tutorial will show how to add a new surface and then adjust the texture on a t-shirt in Daz Studio. This particular t-shirt comes with only a white texture. If you add a shader to it, you'll find that the pattern on the shoulder does not line up with the torso. For some patterns it won't be much of a concern, but for one with horizontal stripes, it can look off.
This tutorial uses:
This tutorial only discusses changing the tiling within Daz Studio to adjust the shader. It does not cover modifying the UV map.
---
Step A: Add New Shader to T-Shirt
---
Change to Surface Selection Tool (from Menu, select Tools then Surface Selection).
Click on Diesel T-shirt to select its surface.
Find Totally Bazaar in Content Library.
Select South American Folder.
Double-click on Vibrant Red Big Stripe icon to apply shader (or use whatever striped shader you have in your library).
The image below shows the t-shirt with the mis-aligned stripes on the right shoulder and sleeve. The left shoulder and sleeve have already been adjusted.
.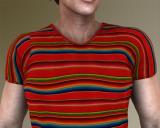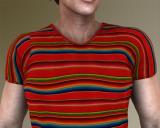 Post edited by RGcincy on