Animated Dynamic Clothing Technique (proof of concept)

stringtheory9
Posts: 411
After months and months of experimenting and trying to come up with a workable solution I think I have finally come across a technique that interfaces the keyframe environment to the physics cloth environment in a usable way. Now it just needs to be refined.
I have not spent very much time on this yet but thought it would be good to post it here and we can use this thread to experiment and share our findings with the community.
This process involved creating a double layered mesh with an inner shell that fits over the character like a body-suite. The body suite mesh is then separated at the bone joints so that each major bone section has its own separate exo-shell. For my POC I just took the V4 body suite mesh and chopped it up but I think a custom made low poly mesh would be more effective (I'll work on one of these as time permits). Each of the different inner mesh sections needs to be given a vertex name.
The next step is to add the outer mesh which is the actual cloth that will be seen and animated. Both the inner and outer meshes need to be in the same vertex object. I am thinking that once we have a working inner mesh structure template it would be simple to open that template and simply copy and paste the outfit into the vertex object.
To make it all work a soft body modifier is added to the vertex object and the inner mesh sections are then each individually "soft body attached" to the corresponding bone section of the character. This is done by adding multiple "soft body attach" modifiers and then using the "Named Vertices" button to pick the correct set of vertices (see image below). One note of caution is that multiple shading domains seem to interfere with the named vertices when it comes to selecting the vertices for attachment.
Since we are simulating a soft body (inner mesh) against a soft body (outer mesh) the simulation speed is really fast. It takes under a minute to simulate a second of cloth on my 1.6 Ghz Intel Core i5 Air book.
Self collation must be checked and I have found it beneficial to uncheck the "Collide with other Objects" checkbox of the underlying character as the interaction between the cloth and the movement takes place through the soft body attach modifiers. This cuts down on the physics calculations required.
This video shows a fast moving arm with lots of jerky movements and no mesh ripping. This simulation took 3 minutes to calculate.
Animated Dynamic Cloth POC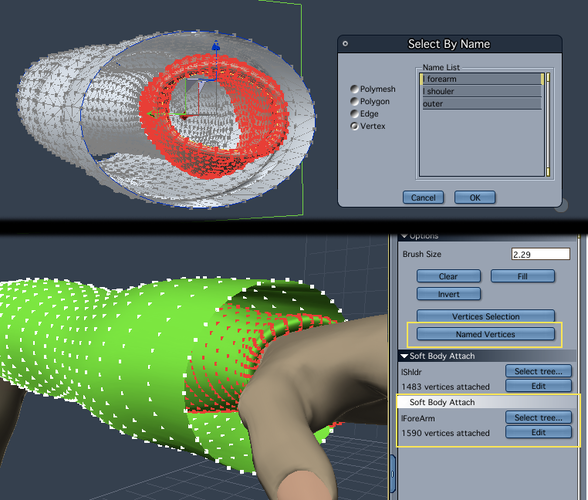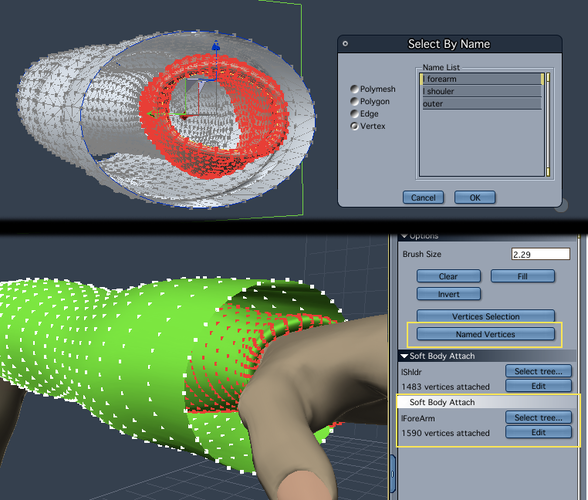 Post edited by stringtheory9 on