Script to adjust G8F after applying a V3 pose.

richardandtracy
Posts: 898
I have recently finished creating a series of G8F poses based on old V3 poses. So, naturally this is the point at which I have learnt enough to write a script that would have cut my time spent doing the conversion considerably.
Anyway, here is a script to do a lot of the conversion automatically. Because V3 had some bones G8F doesn't, and vice versa, the twist in the arms and legs isn't corrected, but foot angle, fingers, arms etc is. You'll be fairly close to the original V3 pose. The script is pretty well documented with comments to describe what is and isn't converted. In the image below, on the left is G8F in the G8F zero pose, and on the right after the script alters the pose to be similar to the V3 zero pose.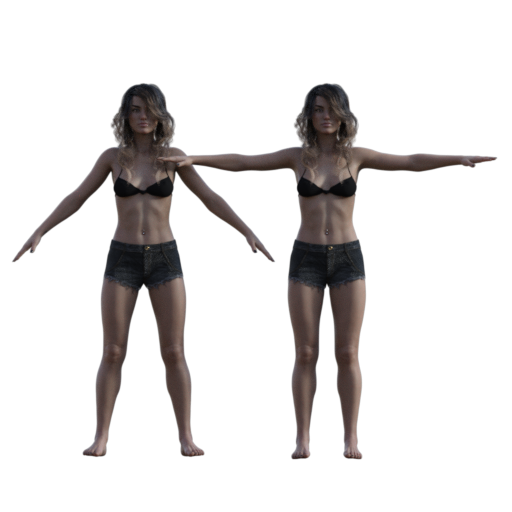 Given how few people seem to have V3 poses lying about, there won't be a lot of use for it, but it may save a bit of time if you have a favourite pose that you've not yet converted to G8.
To use. Apply the V3 pose to G8F, then select G8F, and run the script. Finally, correct twist in arms and thighs.
Hope you find it useful.
Regards,
Richard
Edited to add the notes from within the script:
//The G8F pose can only vaguely approximate the V3 pose because G8F does not have the following V3 bones:
// Left Buttock
// Right Buttock
//As a result all parts of the V3 pose applied to those bones is entirely lost.
//G8F does not have a true twist capability at the following bones, so the V3 twist applied to those bones is lost.
//The twist capability apparent is actually a direct link to the 'Twist' version of the bone and is not activated
//during a pose application. G3F shows the real capability of each bone.
// Left Thigh Bend
// Right Thigh Bend
// Left Shoulder Bend
// Left Forearm Bend
// Right Shoulder Bend
// Right Forearm Bend
//G8F does not have the same user facing names as the following V3 bones, but they
//are treated as equivalents because their internal name is the same:
// V3: lThigh G8F: Left Thigh Bend
// V3: lShin G8F: Left Shin
// V3: lFoot G8F: Left Foot
// V3: Left Toe G8F: Left Toes
// V3: rThigh G8F: Right Thigh Bend
// V3: rShin G8F: Right Shin
// V3: rFoot G8F: Right Foot
// V3: Right Toe G8F: Right Toes
// V3: Abdomen G8F: Lower Abdomen
// V3: Chest G8F: Lower Chest
// V3: lCollar G8F: Left Collar
// V3: lShldr G8F: Left Shoulder Bend
// V3: lForeArm G8F: Left Forearm Bend
// V3: lHand G8F: Left Hand
// V3: rCollar G8F: Right Collar
// V3: rShldr G8F: Right Shoulder Bend
// V3: rForeArm G8F: Right Forearm Bend
// V3: rHand G8F: Right Hand
// V3: Neck G8F: Lower Neck
//V3 does not have the following G8F bones. The pose on these bones is set to zero:
// Pelvis
// Left Thigh Twist
// Left Metatarsals
// Right Thigh Twist
// Right Metatarsals
// Upper Abdomen
// Upper Chest
// Left Shoulder Twist
// Left Forearm Twist
// Left Carpals 1-4
// Right Shoulder Twist
// Right Forearm Twist
// Right Carpals 1-4
// Neck Upper
//V3 does not have equivalent bones in these areas, and any pre-existing existing G8F pose is
//unaffected by either the V3 pose or this script:
// Left Big Toe
// Left Small Toes 1-4
// Right Big Toe
// Right Small Toes 1-4
// The entire G8F Upper & Lower Face Rig.
// Left Pectoral
// Right Pectoral
zip

zip



Adjustment for V3 pose applied to G8F.tip.png
Post edited by richardandtracy on