Indirect Light and scene scale.
tbwoq
Posts: 238
A while ago, the Carrara native content was reworked to better match the scale of objects in scene magnitudes. I noticed some of the GI scenes now take much MUCH longer to render on my system. Some popular scenes like the indoor House Day(etc.) used to render faster. This scene had Sky light and Indirect Light checked. I remembered some of the scenes used to be a small scale magnitude. Sure enough, when I scaled it down, it rendered faster.
For instance. On my system, the House Day scene(default) takes approximately 2hrs:25min. If I group and scale the scene down to 1% of the overall scale, then reset the group to origin(0,0,0), it now takes 1min:49seconds. While the quality degrades slightly(which appears mostly related to Interpolation being checked), its no where near that much of a difference to waiting 2 hours(example images below). At first it appeared to be the scale differences maybe linked to photon mapping etc. However, I later find this is not the case.
Sometimes when rendering a scene, I noticed depending on how I moved the objects, the render times were very inconsistant. By accident, I found that if you move a single object out to great distances, the indirect light changes in the similar way as scaling down a scene does. So the indirect light rendered much faster with this method as well, only now the quality can be inconsistant.
Example. Load the 'House Day' scene from the browser. Insert a sphere anywhere in the scene. Move or translate the sphere to 100k(ft) distance or more on the Z axis. Render the scene. It renders darker, but still much faster. To further test, I experimented with other outdoor scenes. It works just as well and I get very realistic results with some fine tuning.
So, scaling an overall scene down or moving an single object to great distances affect the indirect lighting renders in a similar way. I might be missing something obvious or could this just be my setup. Anyone else experience similar results?
The first image takes approx. 1minute 49 seconds to render using the smaller scale. The second takes approx. 2 hour 25 minutes (EDIT:using the default medium scene). Both have the same default render settings.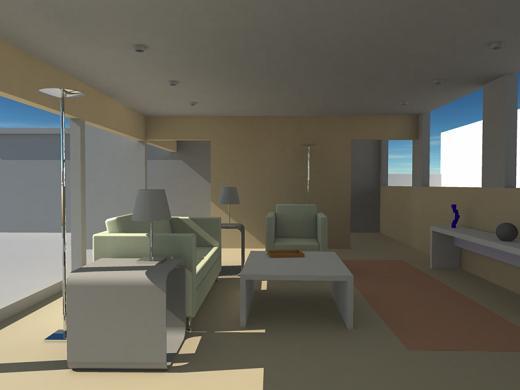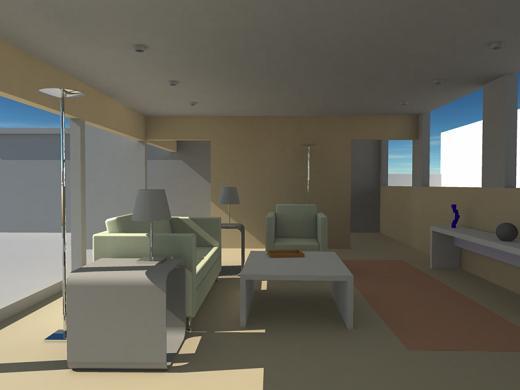 Post edited by tbwoq on