[Tutorial] Starting out with Geo-Grafting (repost)

Hiro Protagonist
Posts: 699
By request I am re-posting the very basic tutorial on GeoGrafting that I did over a year ago. The original was in the old forum archive, but unfortunately this no longer appears to be accessible. The tutorial was made for Studio 4, but I think it will still work in later versions of Studio including the current one.
I'd like to thank Balachan, Kemp Sparky, hschung and others who helped puzzle this out in the original (huge) thread on Geo-Grafting on the old forums.
It really couldn't be much more basic, but hopefully it will get you started if you are interested in trying out GeoGrafting.

Nov 2014: This method still works in Studio 4.7 (tested with G2M). Note that the Polygon Selection Editor is now called the Geometry Editor Tool (this happened in previous version, 4.6 possibly), and where is says "Polygon" in the operation names it now says "Geometry". Otherwise it's the same.
This is a basic step-by-step tutorial aimed at anyone with little or no knowledge of Geo-Grafting—or the tools in DAZ Studio 4 Pro (or Content Creation Tools)—who would like to try it out. You may, like me, have read the Geo-Grafting thread and got stuck. I'm not by any means an expert, but this works for me. However, I'd be grateful for any corrections or improvements to this tutorial from those who know a lot more about it than I do.
Of course, you will have to know how to make the graft item in a modelling application and I will not cover how to export Genesis to the program and import your item back into DAZ. However, there is an important point to note in creating your mesh. The graft item will "replace" the relevant part of the Genesis figure, and the perimeter (the edge loop of faces) of the item must have faces that match those on Genesis fairly exactly. Therefore, as I understand it, the only practical way for most of us to begin is by utilizing a portion of the the Genesis mesh itself and keeping its perimeter loop of faces intact—working inside them to create your modifications. Hopefully, you will see what I mean from the screen shots.
The item I'm grafting is extremely simple, in fact it's something you would probably do with a morph, but I "went back to basics" after failing to get more fiddly items to graft. I hope, though, that it is adequate to demonstrate the process. It's basically just a "socket" or inset in the chest. I suppose this is the sort of thing you might make for a robot or similar figure.
Here is the item imported into DAZ, and you can just see it in the middle of the chest by the interference artefacts caused by the overlap of the two meshes: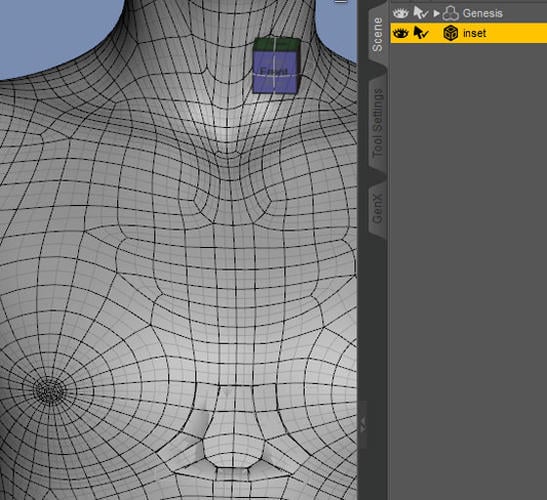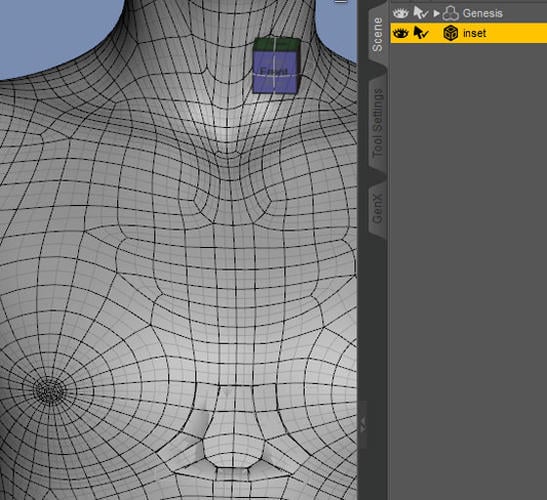 Post edited by Hiro Protagonist on