Happy Holidays PA Gifts!

NGartplay
Posts: 1,304
Merry Christmas, Feliz Navidad, Nollaig Shona Dhuit, Fröhliche Weihnachten, Feliz Natal, Joyeux Noël, God Jul, Boas Festas, Zalig Kerstfeest, Merii Kurisumasu, Mo'adim Lesimkha and Milad Mubarak. I'd also like to say happy birthday to the Prophet and Happy Hanukkah. No matter what you celebrate, weddings and birthdays included, simply have a wonderful and happy holiday season.
It's a busy time of year for a lot of folk with end of year duties at work, family functions that include baking (yum) and gift buying but our vendors found some time to make 'thank you' freeibies for you. This community means so much to all of us and you all are the heart and soul of it. Thank you so much for your patronage.
I will be posting a free item every other day but I may surprise you with an item on an unexpected day so check back every day.
Our first offering is from Fisty and Darc. It's a versatile dress for any occasion for Genesis 3 Female. Readme text attached.
If you enjoy their gift, please visit their store Fisty and Darc
Here is a list of the gifts given away and the pages that they can be found on. Clicking on any of the links will take you to the post where the gift download can be found.
Page 1 - Classic Dress by Fisty and Darc
Page 3 - Code 66 Snow Off shovel prop set
Page 5 - Holiday 3D messages by FirstBastion
Page 6 - Peppermint Cheer Makeup by Lyoness
Page 7 - Hanging Wand Lights by InaneGlory
Page 8 - Ciara Earth Genesis 3 Female Expansion
Page 9 - Star Over Skunkville add-on
Page 9 - DG Backdrop and Shader Presets for Daz Studio
Page 10 - Jack-in-the-Box and Disturbing Sci-Fi Present
Page 11 - Valentine Background/Papers
Page 12 - Elf Hat and Ears for Genesis 3 and Star2.0
Page 12 - Flower Face and Ornament 2D
Page 14 - 3DUniverse Toon Elf Hat Morph for Page 12 Elf Hat


5c0046c6884679097932ffef8757a5.jpg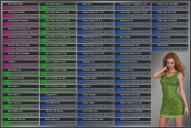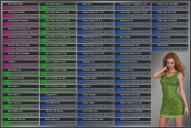 8bb91fdd139f2d37ea0b3828a87ddc.jpg


656fd5fbefb89d669f27a8cdefe9da.jpg


69137f640ae974a560b3bda7693e17.jpg
txt
txt
Post edited by NGartplay on