Fixing Poke Through (Genesis)

thoromyr
Posts: 444
I tried a scene with genesis and was reminded of why I dislike working with genesis: poke through.
With gen4 characters it is pretty simple to create a morph in the clothing to pull it out past the figure's mesh, but with genesis this does not seem possible. I really hope that I'm missing something.
First, trying to edit the conforming clothing in the assembly room gives a warning that it is "protected topology" and instructs you to go to the view (!) menu to unprotect it. Its a good thing it says where to find it because I wouldn't expect such an option under view. But in any case it isn't there. So, take a trip to the modeling room and uncheck View/Protect Topology.
Second, morph creation is still not possible. Nor is morph editing. Click the edit button and nothing happens (that is, you cannot select any mesh to alter it). Being forced to work in the modeling room is suboptimal anyway as you can't see the figure it is fit to which makes editing trickier, but I would use it if it worked.
Third, editing of the model (as opposed to creating/editing a morph) also does not work. I've gotten mesh selected and the only tools not ghosted are translation (scale and rotate are not available), but dragging for translation does nothing. Its possible that I didn't hold long enough as paint selection of faces only sampled once every few seconds, but I was certainly trying to account for that possibility.
Any pointers on how to fix poke through of genesis on genesis clothing? I would even consider post work, except that the poke through is so severe it isn't just a few pixels here and there, but large sections. I've attached an example to illustrate and, yes, that is a good section of the thigh poking through the pants.
Ah, I should point out that the distinct line is caused by setting the genesis leg texture alpha to zero, but as most of the problem is actually from the torso domain (I forgot that with genesis the torso is half the thigh) most of the issue remained. But this method only works if the skin is supposed to be hidden by the clothing. Consider a cloth that is supposed to be partially transparent or with holes. Partially transparent renders the workaround completely useless and holes make it unworkable if the poke through occurs at such.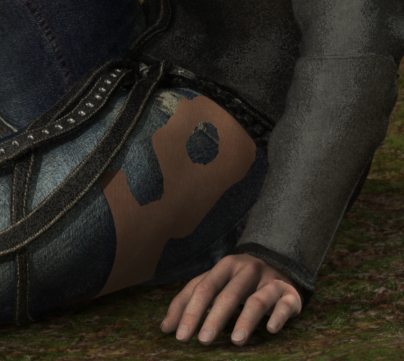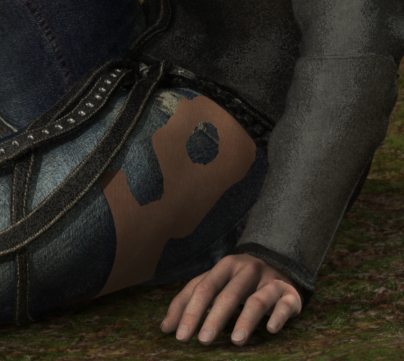 Screen_Shot_2013-09-05_at_7.19_.21_AM_.png
Post edited by thoromyr on