Lantios Appreciation and Belated Happy Birthday Thread (unofficial)

Scott Livingston
Posts: 4,288
As many of you read on the old forum, DAZ Published Artist and lighting guru Lantios has turned 18! There was a contest going on which was to have ended sometime after the old forum died, but I haven't seen any continuation since the forum reopened, so I thought I'd start a thread for the following purposes:

1. To provide a place for people to discuss Lantios products and post renders featuring Lantios products
2. To provide a place for people (like me) who didn't get to post their contest entries prior to the closing of the old forum to do so now (note: I have no idea whether the contest is still going on, or whether images posted here will be considered official entries or not...)
3. To give people a chance to wish Lantios a belated happy birthday (if they missed it).

Here's a link to the thread in the old forum: http://forumarchive.daz3d.com/viewtopic.php?p=3397362

And here's the image that I put together for the contest...shrunk due to limitations with the new forum. Used Lantios Lights 2 for the boardwalk scene (not for the Cyclorama background). No postwork (except on the Cyclorama background, plus compositing the two parts together, and shrinking it to a width of 800 pixels. Nine Genesis figures (various combinations of Basic Child, M5, a little D3, and some Evolutions morphs) roughly in two-year intervals.

thinking back...looking forward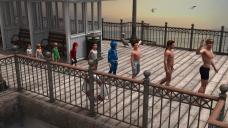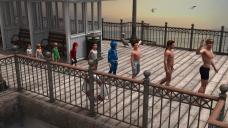 Post edited by Scott Livingston on