Amazing Skins For Genesis 2 Females and For Genesis 2 Males [Commercial]

V3Digitimes
Posts: 2,464
AMAZING SKINS IS A 3DELIGHT PRODUCT ONLY. IT WILL NOT WORK WITH IRAY.
Amazing skins Tip :
Now, in DAZ Studio 4.7, you can directly see the effects of the amazing skins settings changes thanks to the Interactive preview rendering in the aux viewport!
Add Pane : Aux Viewport, and then, just click IPR arrow in it..
Just released, for G2 male(s), female(s), or bundle :
http://www.daz3d.com/new-releases/amazing-skins-for-genesis-2-bundle
http://www.daz3d.com/new-releases/amazing-skins-for-genesis-2-male-s
http://www.daz3d.com/new-releases/amazing-skins-for-genesis-2-female-s
Amazing skins is a new type of material which can be loaded on all Genesis 2 figures, and will keep their initial textures (images maps) and UV sets whatever the initial character is.
The new material applied has been developed to get realistic (and surrealistic if you want) renderings, and includes exclusive colour tools allowing to change, before launching the render, the Hue, the Saturation, and the Value of the colours of all the materials.
Amazing skins has been developed for Genesis 2 Males and for Females, and will also come as a bundle of the two, and is the best compromised I reached between flexible, realistic rendering and render speed. It renders faster than the initial material provided, up to 3 times on HD figures - and even more, depending on the light and render settings. Plus, you will no more note a "freeze" at the beginning at the render.
See More Here : http://youtu.be/ns9ET7Qt8OU
Why Hue, Saturation, Value? Because it allows to manage rendered colours like never before!
- Hue allows to change the base "tint" or globally perceived base colour (Red/Green/Blue/Orange/Violet),
- Value is assimilated to the brightness of it, the lower, the darker is the colour (down to black for a zero value), the higher the brighter is the colour.
- Saturation defines the "purity" of a colour, meaning that for a zero saturation you go for a "black and white" result, and for a 100% saturation, for a red Hue for instance, you have the "purest" red you can reach.
You can really adjust fast your skin. Too Bright? Decrease the Value Dial! Too Dark? Well, just decrease it! Too pale? Increase the saturation! Too warm? Apply a colder Hue! This way, not only you can reach the skin you want, but you can also match the skin tones of different Genesis 2 figures in a same scene (which may otherwise often be an issue).
The Hue/Saturation/Value are very intuitive drivers, available directly as Dials in the material, all gathered in a "HSV Drivers" group of dials, and you can adjust them twice : first directly to modify the colours of the diffuse image map, then once the Main and Deep SubSurface Scattering and Specular Highlights have been added to the Diffuse component, just before sending the result out as the final calculated colour.
For each sub-properties of the material, the two subsurface scatterings (scatter and sheen) and the specular, you can also change the base colours on which they rely, and adjust the proportion of this change.
Now what can be found in amazing skins ?
- The material swapper : apply Amazing Skins to any G2 figure, keeping the figure's original maps.
- Several Full Material Presets, loading different skin tones presets variations (cold, tanned, reddish, neutral....) already set-up for the main Genesis 2 Figures : Victoria 6, Victoria 6HD, Aiko 6, The Girl 6, Gia, Olympia 6, Stephanie 6, Michael 6, Michael 6 HD, Teen Jayden, Gianni, Lee. Also included : 3 Fantasy full presets for M6 and V6, 2 for Gianni.
- Ready to render scenes for the same figures as mentioned above, as well as their HD versions when existing, including a floor and background prop, a posed and dressed (basic underwear) figure, a high quality lights set, and a camera. Just load and render, or load, customise, and render.
- Everything you need to set-up a scene in the blink of an eye : the floor and background prop, several poses, a basic underwear, 7 high quality lights set.
- Tons of skin sub-properties, organised in subfolders by category : Colours options for Diffuse Hue change and for Main and Deep SSS, scatter strengths, sheen sizes, highlight sizes and shapes to manage gloss, strengths of total contribution of main and deep SSS and specular to the final result, and many other tools for eyes, mouth, nails...
- The shader version of all that to apply Amazing Skins on any surface you want, including but not limited to Genesis, V4, M4, Dragons, Outfits, Objects...
- 2 Skin Randomisers, one for Diffuse Hue + SSS colors and properties , one for Initial Value of the Map, and Final Hue, and Saturation.
All the Amazing Skins presentations/demonstrations are gathered in a same playlist :
http://www.youtube.com/playlist?list=PLhMqfqgUaaeygUXocKh-PSx5Q7zWRobgB

3 Ways to start with Amazing Skins. Around 8 minutes.
The three way you can start to have an amazing skin base on your figure :
- use the main applier from the main folder (useful for instance on new or not included G2 Figures)
- use a full material preset for one of the main included G2 figure
- Load a full ready to render scene with one of the main included G2 Figure
Link : http://youtu.be/OGENxwE7MQw

Manual skin set-up in amazing skins :
this presentation is dedicated to the people who you not like to use only the included presets and sub-properties presets, but would like to go for a personal and manual customisation of the skin.
You will discover, what are the 4 important groups of dials to adjust the properties of the skin, the way to access them fast and what the individual dials can do for you.
Globally you will find out how to make the multiple surface selection of the surfaces and access for all these surfaces together only the group of parameters you want to customise, for each of the four main properties (color change, main SSS, deep SSS, specular).
More in detail The Influence and tips :
- about Hue Saturation and Value PreProcess
- about Hue Saturation and Value PostProcess
- about how to define properties (effects repartition, total amount, individual colours) and your first level of Subsurface scattering.
- about how to define properties (effects repartition, total amount, individual colours) and your second level of Subsurface scattering.
- about how to drive shapes, colour, vertical and horizontal sizes and strength of the highlights in order to go for more wet or more dry skins, or for special effects of gloss (highlights).
- a Rapid presentation of the sub-properties presets (base colours, Main SSS properties, Deep SSS properties, Gloss Properties, and other tools) already included.
- Rapid randomised skins.
Link : http://youtu.be/pYBD4Pm28Qg
Aux viewport and Amazing skins (NEW! with Daz Studio 4.7) :
http://youtu.be/LE9C2lEsBos
Around 8 minutes. See how to :
Open the Aux viewport
Tweak skins tones and glossiness
Tweak Cloths colors (required amazing skins for genesis 2 males or females to get the shader version of the material).
How to Apply and customise Amazing skins on Genesis (Genesis 1 Generation, but works for any V4, M4 figure...). Around 15 minutes. You do NOT need this one if you are using it on Genesis. It just shows how to apply then tweak them for other figures, older generations. Yet it can be interesting to see how to do a full manual adjustment.
- Load a figure
- Multiple select the surfaces and apply the different shaders
- Change color tone, SubSurface Scattering and Specular (Gloss) Properties
- Summary of the 4 important families of properties to reach your set-up
Link : http://youtu.be/HGERXseV63E
How to set up a sci-fi Skin and save. Around 12 Minutes
- change the base colors
- change the skin properties (SSS Sheen For instance)
- Save as material preset
- Use the skin Randomiser and customise the randomised skins
Link : http://youtu.be/Jw6zERDkd5s
Demo : Figures color matching.
The principle concerning how to match in a few steps 2 different figures skin colors (example based on the very bright Aiko and very dark Gianni). Duration 9 minutes
Included :
- Load, pose and add lights
- Pick up the right color in the shader mixer using external software (shown on photoshop, but can be on the free Gimp, or with standalone color picker tools)
- Adjust saturation and Value of Aiko to match Saturation and Value of Gianni skin. And this is done.
Please note : When changing Hue preprocess, not shown here, you may have to slightly readjust Saturation and Value after that, but the principle is exactly the same as shown in the demo. Good luck, have fun and be creative.
Link
http://youtu.be/sSAc0c5c9kI
For Advanced users only : How to swap for another BRDF model and save. Around 10 Minutes.
http://youtu.be/duiY_a6J1to

Promo Video Link Showing in 2 Minutes the principle : http://youtu.be/ns9ET7Qt8OU
Now a few renders made with amazing skins. None of them have been postworked (except for adding the text - and the background of "extraterrestrials"), these are the colours rendered by the DAZ Studio immediately. You can easily reach black and white, monochrome, realistic, Fantasy, warm, cold....
5_AmazingSkins_Be_Incredible.jpg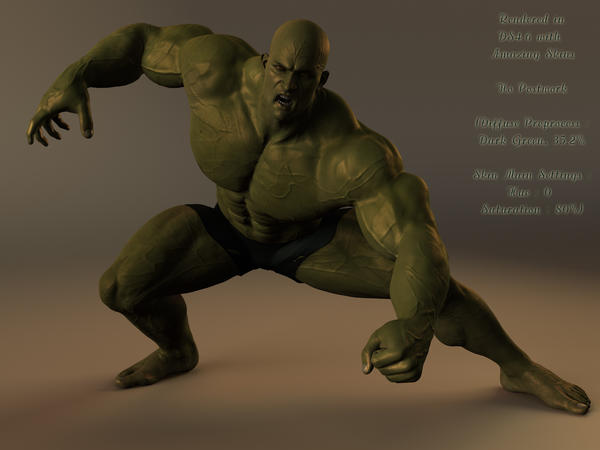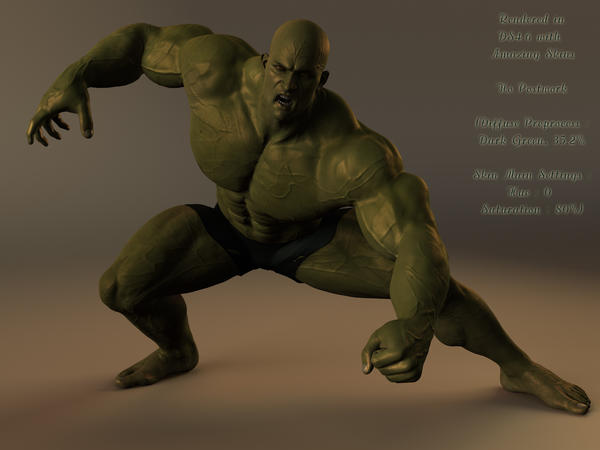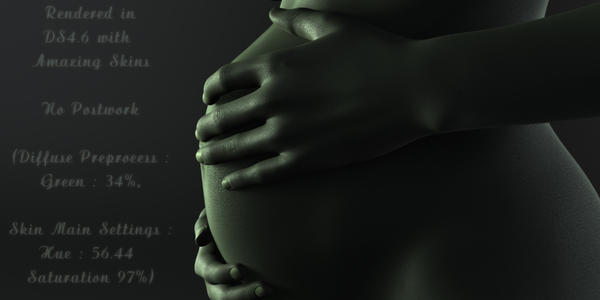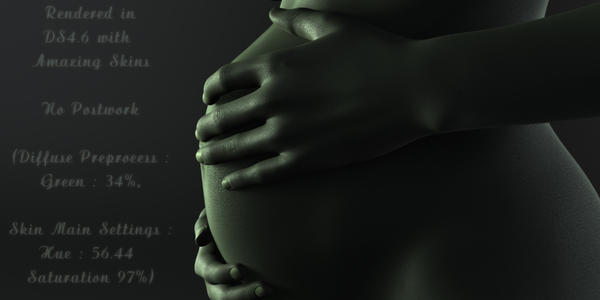 3_AmazingSkins_Render_MONOCHROME.jpg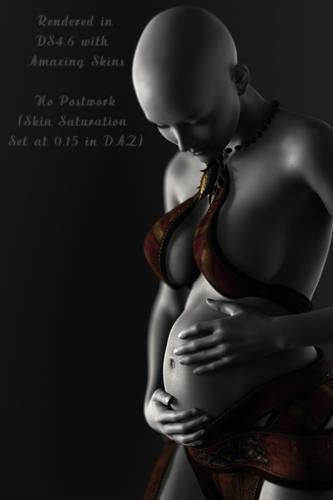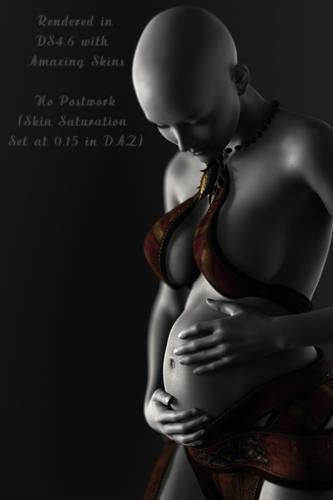 2_AmazingSkins_Render_BlackNWhite.jpg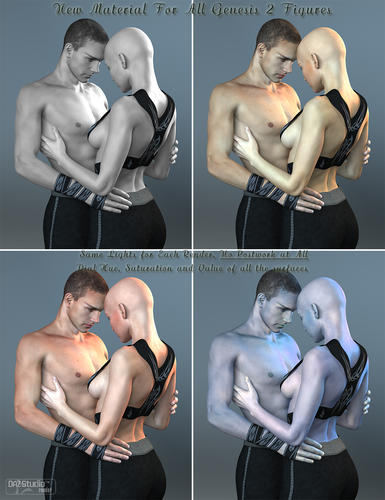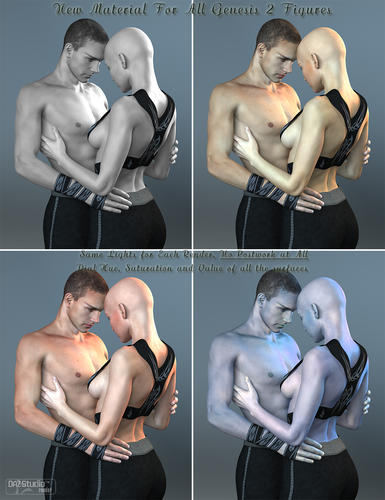 1_AmazingSkins_MATCH_FIGURE_COLORS.jpg
Post edited by V3Digitimes on