Using Gen 3 skins on Genesis

DWG
Posts: 770
Up until now, the perceived wisdom has been that using a Gen 3 skin on Genesis needs you to run it through Texture Converter 2 to get a Gen 4 skin, but in the thread here: http://www.daz3d.com/forums/discussion/3192/ Ebahr pointed out that you could autofit V3 to Genesis to make second skin outfits available, and I realised that would be equally applicable to full character skins.

The example below has V3 with the V3 Real Woman character autofitted to Genesis, with Genesis morphed with a GenX version of V3 Real Woman. In the first picture V3 is on the left, Genesis on the right. In the second picture she's wearing the Genesis Day Dreamer Outfit and that's a V5 pose.

Issues noted to date: Set all the Genesis textures from Lips to toenails to 0% opacity to eliminate poke through between the two textures, you'll want to use Genesis eye textures, and for some reason the toe bones disappear from V3 when you autofit her (note the left foot in the second image). Smoothing works better if you target V3 rather than Genesis.

With the skin issue solved I think the major remaining issue in Genesis-Gen 3 compatibility is the lack of clone figures for Luke and Laura.


Genesis_Real_Woman_Test_2.jpg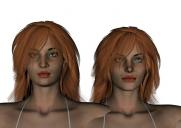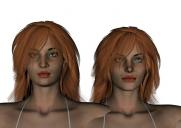 Genesis_Real_Woman_Test.jpg
Post edited by DWG on