Arki, You ROCK!!! Welcome All from RDNA!!!

Dartanbeck
Posts: 14,606
I was just recently working on re-shaping my V4 and M4 character's iris meshes to get the proper opposite highlight, like what Jeremy Birn recommends in his Digital Lighting and Rendering book. I really liked the results I was seeing, but I kept lacking the time to actually do it right.
test of a trial run at re-shaping the irises >>>>>>>>>>>>>>>
Well now that Daz 3d merged with RDNA, there has been a lot of cool sales on our new selections.
I was checking a whole bunch of it out the other day... there's a lot of really cool stuff! So I bought some of this... some of that... it's hard to say how much of the new products I've seen already, and I know that there's still a lot to come over from the other store. I hope the transition is going smooth for all of the artists.
Anyways, I was messing around with my new Dragon: Ocean Queen, from Arki, and decided to go back into the store and see what all she has available in her store. Hmmm... I've already been an Arki fan having already bought several of her offerings. Anyways...
While I was browsing I came upon the coolest thing: EYEdeas 3+ for Victoria 4 and Michael 4, just the very figures I've been working on! Well now I don't have to - Thanks to you, Arki!!!
EYEdeas 3 are anatomically correct eye models that can work with any model, I imagine. But this kit is masterfully geared to work with V4 and M4. EYEdeas 3 are custom mapped, conforming or parented eyes, and EYEdeas 3+ are newer improved versions with a separate reflection layer which can be textured independently from the rest of the eye and can also be rotated separately from the rest of the eye!
There are also versions which can use existing V4 or M4 eye textures instead of Arki's custom maps, so we can use shaders that we've already made for V4 or M4.props.
I was really excited to get my hands on these - but I was quite surpised when I went to load them in. Immediately after installing, I went straight in without reading anything about them, so I looked in the "Props" folder... nothing. So I went into the Figures folder and there they are! So I started looking through the options and loaded in a set onto my character. Wow! The set I loaded in is a conforming figure containing both eyes - which can be controlled with my Morphs++ eye-movement dials!!!
Nothing wrong with props. I like using them. But using this, I don't have to hide them deep within my hierarchy, but just leave them in the list within my character's grouping, as with the rest of my conforming items - making them really easy to select and edit. EYEdeas 3 eyes have several morph dials for altering how they work and what they look like. I needed a convex iris, so I cranked that one up.
As it turned out, the set that I loaded in by guessing is one of those which uses V4's eyes UVs, so the shaders already within my tray did most of the trick, and I opened the instructions to see what to do with the rest... really slick setup... I'm very pleased!
Very organized sets of choices in the Pose folder for Utilities for both the main character figure as well as some for the EYEdeas eyes. Then there's a bunch of MATs to choose from to make any sort of creature or person.
I also bought the expansion pack Vol. 1: Naturals for a selection of natural style textures and will get Vol. 2: Fantasy soon! I wanted to check out the product before going too deep. Seeing how easy the kit is to use, I'll be using these for all kinds of figures!
So cool! We can load the full sets of two eyes, or right and/or left eyes individually, so I know I can use these for Genesis figures and other figures like monsters, creatures, animals... anything that would benefit from detailed eyes.
Still not finished tweaking these how I want them to be, the practice I spent on them got me pretty well acquainted with getting Rosie eyes set up - which shaders to use in which domains, etc., and now I'm experimenting with other options - like the other sets of eyes which use the other style of mapping, so I can try out Arki's really nice textures. She's got stuff in there for demons and monsters, mechanical beasties and droids, Fae... just the initial kit has some great options, and the expansion has much more. Definitely want that Vol. 2: Fantasy! I love having options for eyes!
<<< Even better, if we use PhilW's Bright Eyes for Carrara on the "+" version's reflection layer, we can dial the reflection independently from the eyes themselves! Sweet!!!
*Attached image is my first EYEdeas + setup. In Carrara, there's so much we can do with this, this quick render is only the beginning! I cannot wait to play more! >>>>>
Arki... you ROCK!!! Thank You!!!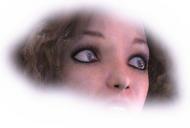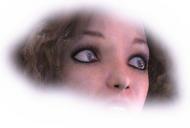 Post edited by Dartanbeck on