Simple Material Mixing With DS4.5 Shader Mixer [What's up with normals?]

3dcheapskate
Posts: 2,591
(Yeah, I like amending the titles of my threads - helps remind me of where I'm up to!)
Here's the questions I've asked so far, with links to the relevant post within this thread:
Question 1: Is it better to use two DS Default Material, or to plug two things into each input of a single DS Default Material?
- Seems like it's down to personal preference.
Question 2: How can you duplicate the auto-selection of ray-traced reflections in the standard DAZ material Surface tab?
- Seems you can't. So I've chosen to give the user an extra slider to mix between mapped and ray-traced reflections.
Question 3: What's the correct way to combine two normal maps, and how do I do it in Shader Mixer?
- Got the method sorted, I think, but something very odd is happening...
Question 4: What's up with refraction when applied from Shader Mixer?
- Nothing, provided you pick the right values for Sample Cone, Max Distance, Samples, and Bias in the Reflect And Refract brick.
And here's a useful link for anybody who's just starting to play with Shader Mixer Shader Mixer Tutorials and Recipes
I recently started playing with Shader Mixer. I've just got my first reasonable result (still a WIP though) which uses a mask image to apply one of two alternative textures to the surface. I wanted this for a couple of current projects - shield designs in gold paint on wood/leather, and gold leaf applied to stone carvings.
I had a couple of specific requirements:
- the shader has to work in DS3 as well as DS4 (I know that DS3 Shader Mixer never left beta, and some bricks have changed)
- it has to work in the FREE versions of DS3/DS4 (i.e. all paramaters must be sensibly laid out and adjustable on the 'Surfaces' tab, because users can't open Shader Mixer in the free versions)
- I want the 'Surfaces' tab parameters for each of the two textures (base and overlay) to closely match the normal parameters you'd get if you create a simple primitive (to make it as easy as possible for a user to work out what does what).
I've now got a simple material shader that more-or-less meets this goal. I created it in DS4.5 and exported DBM, DUF and DSA files. The DSA and DBM files seem to work fine in DS3. I can use the shaders in DS4.5 and DS3 without opening Shader Mixer.
There should be two images attached - a zoomed out overview screenshot of shader network, plus a DS4.5 render of a sphere primitive with the shader applied (red torus primitive simply for checking reflection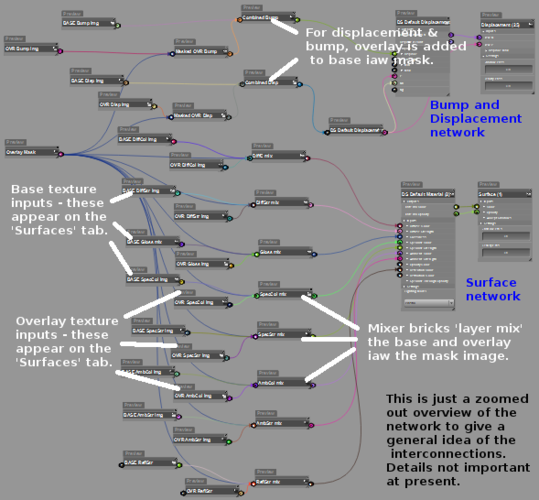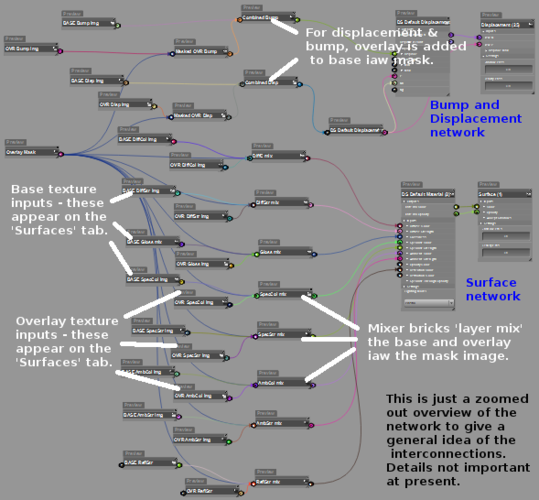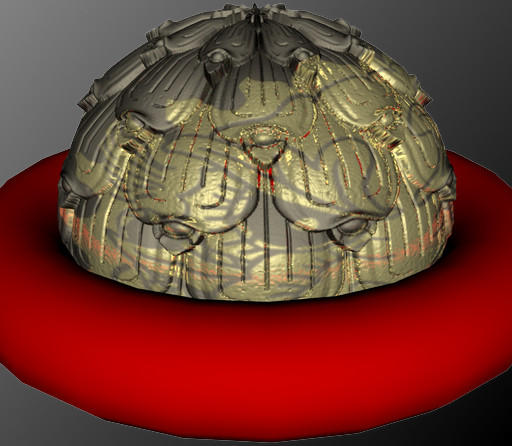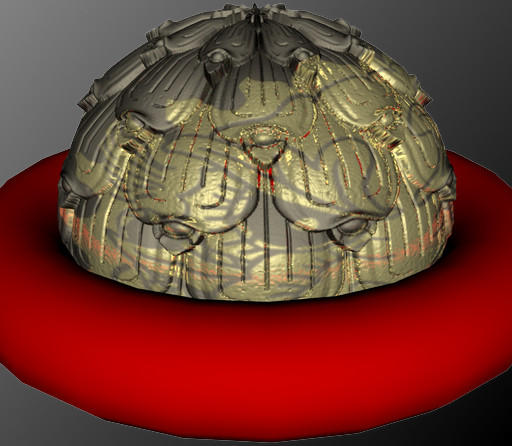 Post edited by 3dcheapskate on