Hair Tutorial for DS4 Users [WIP thread]

Scott Livingston
Posts: 4,317
2/25/2013 Update: the completed tutorial can now be found here: http://www.daz3d.com/forums/discussion/17656/
The old WIP thread is below.
Pre-introduction: What's this newbie think he's doing, writing a tutorial for other newbies?? After all, it wasn't too long ago that I was asking the same questions that I'm trying to answer here. One answer is that I've learned a lot recently from questions that I have asked, and that others have asked, here in the forums--but I have yet to see all this great information compiled in a single place. The other motivating factor is that sometimes teaching can be a great way to learn, and in putting together the tutorial I have expanded my knowledge of the subject even further, though seeking out answers online and through experimenting with these methods myself. Still, I'm sure I've made mistakes--maybe some things are just wrong, or I've left out important details, or the structure or other aspects could be improved. I'd appreciate any and all feedback and will use it to improve this tutorial as I expand upon it. (Also, if anyone with more experience would like to write or rewrite a section, I'd be happy for the assistance, and I won't be offended if you politely [or bluntly, for that matter] suggest that I'm in over my head.)
This tutorial is a work in progress, and I'll be editing these posts as I add to the tutorial, correct mistakes, and make changes in the structure and syntax. For now the tutorial will reside in this post and the three below it, and each time I change a section, I'll update the last-edited date and version number on a line at the bottom of that post. Once the tutorial is more or less complete, I'll remove this pre-introduction and post the finished tutorial to a new thread and/or make and distribute a pdf. At that point, I'll let this WIP thread fade into obscurity.
If you are here looking for help with hair, please keep in mind all of the above and take this advice with a grain of salt, but I hope you do find some useful information here. Feel free to respond and let me know what worked and what didn't.
Contents
Post 1 of 4 (this post)
Pre-introduction
Contents
Introduction
Post 2 of 4
I. Types of Hair
1.1 Painted hair
1.2 Conforming hair figures and hair props
1.3 Other types of hair
II. If the Hair Fits...
III. Parenting 101: Not Just for Moms and Dads
Example 1: Using Mitsu Hair for Aiko on Genesis
Post 3 of 4
IV. Fits, Morphs, and Poses
V. Dye Jobs, Mat Poses, and Surfaces
5.1 Changing the color in Smart Content
5.2 Changing the color in Content Library (materials or mat poses)
5.3 Changing the diffuse color
VI. Using Morphs and Poses to Find Your Style
Post 4 of 4
VII. Rendering
7.1 Basic rendering settings
7.2 Uberhair
7.3 Fantom occlusion
VIII. Special topics: hats, elf ears, beards, body hair, and more
8.1 Hats and Hair
8.2 Elf ears, lash distortion, and other unusual shapes
8.3 Facial and body hair
IX. Additional Resources
***
List of hair products used for examples in this tutorial:
Mitsu Hair for Aiko (prop/hr2) from the (currently) free Anime Star Fighter bundle: http://www.daz3d.com/shop/anime-star-fighter
Taylor Hair (figure/cr2; dsf): http://www.daz3d.com/shop/taylor-hair
Gia Hair (Genesis/dsf; prop/hr2): http://www.daz3d.com/shop/gia-hair
You don't need to own these same hair products to use the tutorial, though: you can follow the examples using any hair of the same type (keeping in mind that some of the finer details might be different). The principles described in the tutorial should apply to just about any hair.
***
Introduction
This tutorial is intended for DAZ Studio 4.5 users who work primarily with Genesis and/or with the 4th Generation figures (Victoria 4.2, Michael 4, etc.). Most of the information also applies to DS4.0. The objects of the tutorial is to familiarize you with basic concepts involved with using hair in DS4, to address common hair-related problems, and to give advice on optimizing the appearance and rendering performance of your 3D hairstyles.
A few weeks before beginning to write this tutorial, I posted a message in the New User forum, asking if anyone knew of a good tutorial or general advice on hair. While I got a great deal of helpful advice, I didn't find any tutorials, so I decided to write my own, compiling the responses to my question together with other information I've learned about hair. In this endeavor I'm greatly indebted to those individuals--including (in no particular order) fixmypcmike, Jaderail, adamr001, Frank0314, DWG, Indigone, Wiseavatar, RAMWolff, Lindsey, kitakoredaz, and others--who have helped me and other forumites with hair-related questions. I've provided links to several of these threads in the Additional Resources section at the end of the tutorial.
(Version 0.9, last edited 2013/02/16)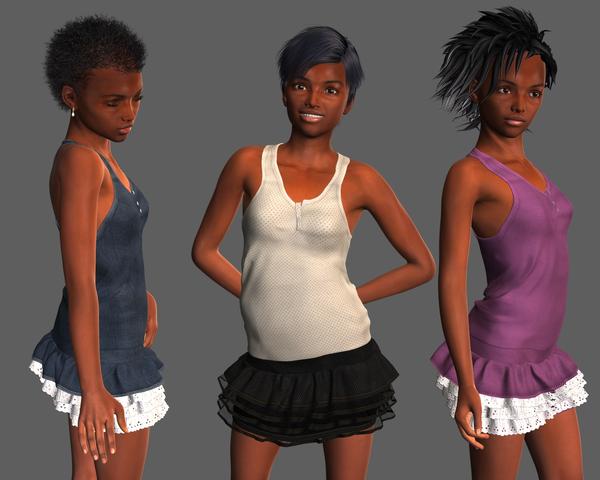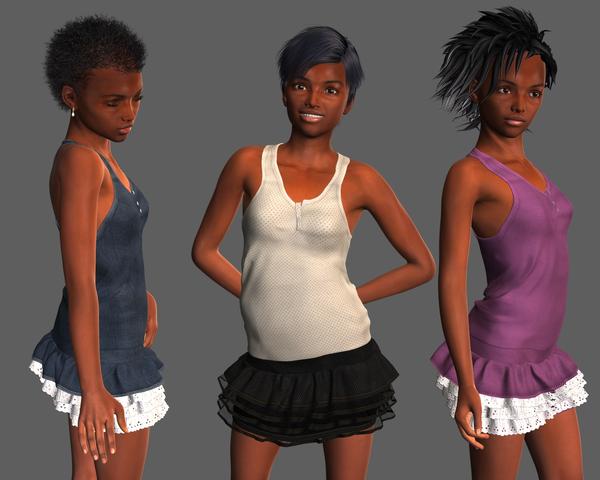 Post edited by Scott Livingston on