Creating freebies for a year now.. Bit of a Ramble.

richardandtracy
Posts: 1,796
There are so many freebies around that I have benefitted from that I started to get a bit guilty about using them without returning very much to the community. So I thought it might be nice to offer something back. Not having a huge amount of experience in modelling for DS, I reckoned the only thing I could initially offer was poses, because everyone can do poses (ho hum). In 2004 I downloaded a useful set of poses by Musketeer for V3, and as it wasn't very easy to apply them to G8F, after asking Musketeer for permission, I thought I'd have a go at producing a look-alike set for G8F by using V3 as a reference and posing the G8F figure from scratch. I learnt a great deal about posing doing this, mostly that V3 & G8F have very different joints and some V3 poses are really awkward looking on G8F and needed a great deal of re-work to the pose. Took a bit of time to get both the pose right, find how to create the upload package etc etc. Anyway, I uploaded my first freebie 364 days ago, having finished it a year ago today.
The results have been somewhat surprising. OK, I'll be a little less English: The results stunned me.
Within a day or two the downloads exceeded 100. Over 100, Just for a little pose. What were people thinking of?
Anyway, it looked like I had found something I might be able to do to say 'Thankyou' for all the freebies I'd taken advantage of, and did the rest of the set. As I came close to the end, I accidentally applied a pose to G8F rather than my V3 reference figure, and that triggered the thought of a pose transfer script. Naturally it happened after it would be most useful!
So, the results. Well, I have been very surprised. Over the last year there have been 109,802 downloads of my freebies on renderosity and the fastest downloading set is the G8F warm-up pose set 01-05, getting to 1748 downloads since January. Being an engineer, I tend to like graphs and general data, and have found that there is a common shape to the download pattern of each freebie. It starts off with quite a few downloads, then the daily rate tails off to a pretty constant average figure. This can be seen with a plot of 16 downloads below: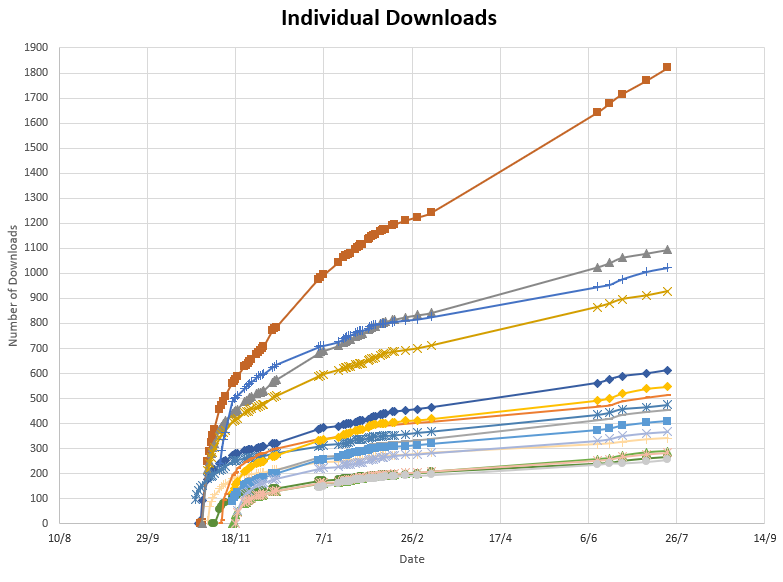 As you can see, starts off fast, then tails off to a pretty constant rate. The only thing that's different is the overall popularity of the individual download which determines the slope of the curve. With a bit of data processing it should be possible to calculate the rough 6 month download rate after taking a 2 day and 7 day download quantity snapshot. As I can see no earthly need for this for freebies, I've not done it. Might be worthwhile if I ever have a massive change of heart & try to sell something, but at the moment it's highly unlikely.
So, at the 1 year anniversary of creating a freebie download I am left feeling 'Wow, that was wild and unexpected.'. It's also nice to have been able to give a little back to the community.
Does anyone else have any similar experiences or stories?
Regards,
Richard.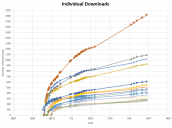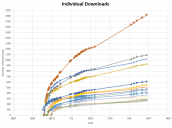 Post edited by richardandtracy on