As a beginner, how do I 'cut' and 'chop' this to form other clothing?

launok
Posts: 762
I think I have asked sometime back also about cutting parts from a pre-made clothing model but no answers were given.
I have first tried this in Silo but it keeps on crashing. Now over to Hexagon - at least no crashes up to know, touch wood!
The model of this bodysuit is from a resource kit by Ghastly from ShareCG. I have tried contacting Ghastly but not getting any replies on the emails.
I have NEVER modeled or worked in Hexagon before. Thus, totally new to this medium of 3d modeling! :red:
I have attached an image of one of the .obj's from the resource kit as it shows up in Hexagon 2. All I want to try to do, is to make shorter sleeves and change it into a jacket with a middle seam so it can close and open with morphs, without pants part attached to it. Also to make pants separate on its own - long and short pants. I have tried to look at the Hexagon manual but can't find about cutting off pieces from a model. I have find some videos to create clothing from scratch but this is not what I want to do.
The whole idea is that Ghastly has given the resource kit specially so own can alter it ... but this is where I am really struggling!! How do I alter it to a short-sleeved jacket/jersey with separate pants? Ghastly said he will do a tutorial at his Rendo upload in freestuff of the same set, but with him not answering I have no idea if it will be done. Will this be easy to do for beginners?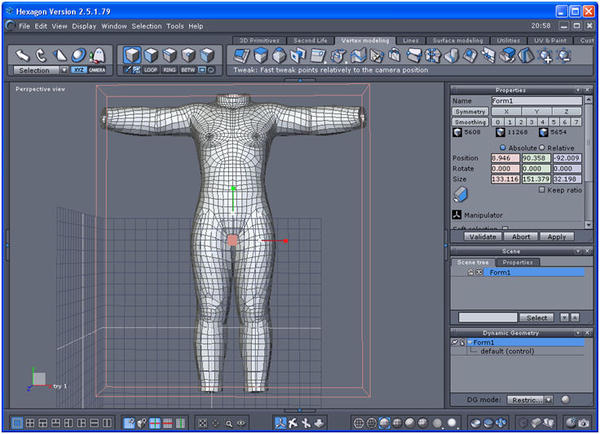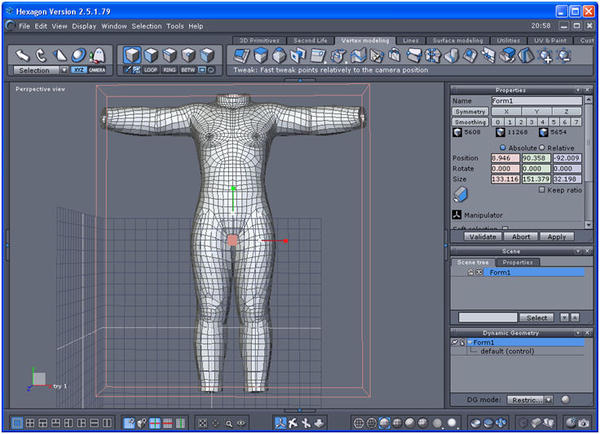 GHASTLY_BODYSUIT_RESOURCE_KIT_TRY_1.jpg