Making eyelashes with Carrara Dynamic Hair

SileneUK
Posts: 1,961
I have a problem with Victoria/Genesis eyelashes for a project I'm doing--they are too goopy with mascara, and removing a layer didn't help... and I needed to remove the shadows they created so that later I can re-shadow different elements in the scene and on the character by doing lighting experiments. It's a faff that every little thing can create shadows and can be really weird. So removing the layer or shortening them... that made them disappear almost altogether when viewed even in close-up. I wanted a natural look that should show up from a bit of a distance. I tried making a new texture/pattern for them, but didn't work.
Anyways, I have made eyebrows with Carrara hair for my Neanderthals successfully...but never thought about trying eyelashes. Well... the mesh is there, so I put some guide hairs on and after a lot of trial and error with length and hair count, got the below results. From a distance of the final scene, I can see her eyes have definition that is natural enough for this purpose.
If any of you experts have done this before, I'd appreciate any pointers as it took a lot of faffing around. I used Addison hair to get shades as I didn't want them all black! I got variable shades of brown/black that matched the brows.
Any help/criticisms appreciated. Two images, first is in Assemble which I lightened to show that they look coarser than in render. Then the distance shot. I spent so much time on her face that other than her top, everything else are products as they come, or maybe are trimmed and coloured differently.
xx :) SileneUK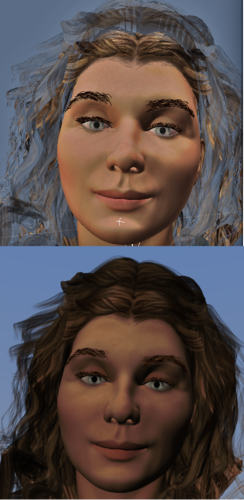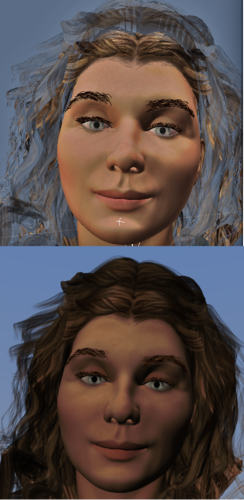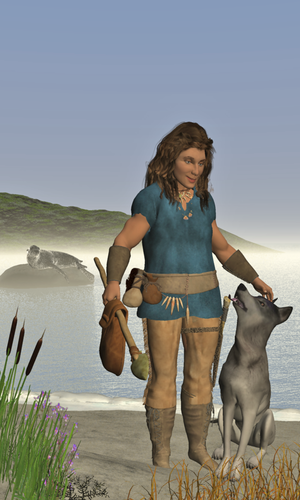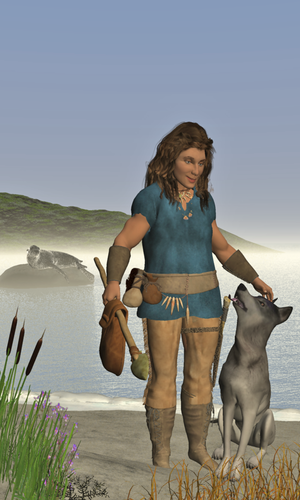 Post edited by SileneUK on