Fix Teddy! ... And give it a Collar!

Catherine3678ab
Posts: 2,412
Wow ... somebody was naughty and Teddy needed a fast trip to the Teddy Bear Picnic to go to the Teddy Hospital and Get Fixed!
You're on your own for the textures however what I did put together is a .psd to assist with template islands. Loose templates are also included.
And 2 morphs! Yes I was ambious this morning. There are 2 morphs ... one is FIXED. NO stuffing. With whatever around that has such naughty behaviour patterns, no more stuff toys! Vinyl ;-) Much safer a toy. The other morph is not fixed, it is to put the head back on zee body where it belongs.
Since I made one, I've also included a new icon image for Teddy.
Keep what you want, ditch the rest.
zip

zip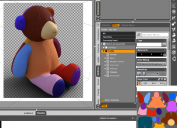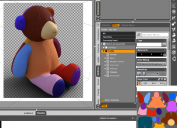 Post edited by Catherine3678ab on