►►► Creating stuff for Genesis in Carrara ◄◄◄
Dartanbeck
Posts: 18,644
With Carrara 8.5 we now have the ability to work with the new DAZ Studio Triax rigged models. So for the most part, when I say: "Genesis" loosely, I'll be referring to any model using the new Triax. Carrara not only offers us a great way to now pose, animate, and apply shaders to Genesis, but we also have the power to be able to model support content for Genesis using Carrara's modeling tools!
Like you've seen me do before, I'm going to begin by linking to DAZ 3D's "Publishing" page were you may peruse some very useful instructions on how to do many things for Genesis. Here, they not only discuss ways to make clothing and morphs for Genesis through the help of DAZ Studio Pro's Content Creation Toolkit, but also valuable information on how you may become a DAZ 3D Published Artist. Whether this is your intention or not, info useful to that is always useful in your own endeavors to make high quality items.
Exporting OBJ from Carrara to bring into DS
Right from the start, here, I'd like to demonstrate one way that we can get the scaling correct from one application to the next. I am planning to expand this information as I learn more. But for now, let's begin with what I already know. Different apps use different scaling. So we have to set an appropriate scale before exporting. The one scale that I know of now is the Poser scale. To avoid confusion, I'll explain this in a workflow. Then , once you already know this, you may skip to the bottom to find the correct scale:
You've modeled something to fit Genesis in Carrara and now you need to send it to DAZ Studio to make it into a conforming figure that follows any of Genesis' shaping morphs.
First of all, save a copy of your file in Carrara format before continuing - just in the event that you need to get back to this point. I use My Carrara Browser for this.
Now select your new model and go to the Motion tab in the instances tray on the right.
At the bottom you'll see the controls for scaling.
Place a check in the "Scale Uniformly" box and then, in the overall scale (white) box, type in the following scale: 1.042
Since this just made your object slightly larger than 1% its original size, it has just seemed to disappear. This is the scale we need to use the Poser presets when exporting Wavefront OBJ files from Carrara.
Now when you import this into DS, use the Poser import preset and you'll have the correct scale.
I would like to test the DAZ Studio presets and figure out the needed scaling for this, too. But this is a scaling method that is tested and known to work.
For other duties that you'll be doing to the obj file in DS and/or Carrara, we'll visit those in other posts and the DAZ Studio portions are discussed fairly in-depth in the

Publishing page

.

Instructional Tutorials sold at DAZ 3D
If you're new here, I'd like to first direct you to some Carrara courses that I know you'll like, if you wish to master Carrara:


Carrara 8

Training Videos from

Infinite

Skills

These are explanations of the training videos featuring Phil Wilkes and include some great sample footage from the series. I strongly recommend these products unless you feel that you are an absolute expert at using Carrara. Learning Carrara 8
Advanced Carrara Techniques

For our purposes in what we aim to do here, it is Advanced Carrara Techniques that will give you a wealth of information on modeling, UV Mapping, and all of the good stuff you need to know in order to use Carrara as a modeler. Highly entertaining and very useful. No matter your skill level, you'll enjoy this one. But if you're new to Carrara, and are still learning the basics, some of this might go over your head if you don't begin with Learning Carrara 8. He also gets fairly in depth on some really interesting Shader instructions. Like you've most likely heard me say before, I watch these over and over. I enjoy the show, and subsequent times through really helps to instill his lessons - there's a lot of them... Particles, too!

The above information regarding scaling an exporting is well detailed in the Advanced Techniques as well.

I haven't tried any of the tutorials in the following list, except where noted (will update as I do). I want to get a list going so that we have an index to work from, and anybody who has tried any of them might be able comment on them. If any of you know of some good, free tutorials on this stuff, please post links!

The blondie9999 collection
Many, if not all, published artists that make conforming items for Genesis or make custom DS figures own some or all of these tutorials, and swear by them.
Rigging Original Figures in DS4 Pro


Description

At last-- a comprehensive tutorial on rigging original figures in DAZ Studio 4 Pro, covering every step of the process: grouping, rigging, assigning joint rotations and limits, weight-mapping, bulge-mapping, and adding ghost bones. The tutorial includes explanations of the various concepts involved, including understanding '3-D space' and joint rotation order.

The tutorial is designed for all skill levels. Even if you're a complete beginner and have never rigged anything before, this tutorial will take you through the entire process, step by step, from ungrouped, 'raw' object to fully rigged and weight-mapped figure.

The tutorial comes with a 'gingerbread man' model for you to use in following the lessons. (You can also use some other model if you wish.) The information is presented in clear, easy-to-follow steps, and accompanied by plenty of illustrations. Whether you want to create an original, stand-alone figure, or create an add-on figures for geo-grafting, or just learn more about weight-mapping and adding ghost bones for use in clothing creation, this tutorial will teach you all the basics you need to know.

The tutorial is in .PDF format, with bookmarks and table of contents.

Comments About this Tutorial:


'A nice, solid tutorial, which is easy to understand yet doesn't talk down to the reader.' -- Valandar

'blondie's rigging has never been anything but impeccable, and her attention to detail is evident in this tutorial.' --Arien

'Blondie has created a genuinely useful guide to navigating the basic features of figure creation in DS4. Newcomers and those who have created original figures in earlier versions will find this really helpful in adopting the newer features, such as weight-mapping.' --Digital I

'Blondie's guide steps you through rigging, beginning with planning all the way through completing a rigged figure. With the explanations of different rigging concepts, beginners (such as myself) can pick up on rigging characters and make sense of DS4's interface. Also, since rigging a figure from scratch is a superset of creating clothing, the knowledge gained from rigging figures can be applied to creating and adjusting clothing for use with Genesis.' --Male_M3dia

Advanced Rigging in DAZ Studio 4 Pro


Description

It's here at last-- 'Advanced Rigging in DS4 Pro'!

This manual covers a variety of topics. Although it is intended primarily for people who make (or want to make) add-ons for Genesis, it contains information useful to anyone who uses DAZ Studio and wants to gain a better understanding of 'how things work'-- for instance, 'Why do these boots look so terrible when I bring them into DS with the Transfer Utility?'

Some of the topics included are:

**Tips for modelers on how to model items so that the smoothing modifier doesn't "mash" details or cause distortions;

**A discussion of topology;

**Enhanced Remote Control (ERC);

**Refinements to rigging such as joint orientation;

**And much more.

There is also a complete section on geo-grafting, with step-by-step instructions for creating geo-grafts-- whether the graft in question is a simple pair of horns, or a replacement body-part that moves and poses-- as well as section on scale maps and on using ERC to create rigging adjustments to geo-grafts for specific figure shapes that are applied automatically when the FBM for that shape is applied to Genesis.

The manual is profusely illustrated, and comes in .PDF format, with bookmarks and table of contents.

Note: This manual is written with the assumption that you are already familiar with the basics of using the DAZ TriAx rigging system covered in Rigging Original Figures in DS 4 Pro —grouping, setting up "bones," weight-mapping, etc.

Comments About this Manual:


This tutorial is clear, concise and above all complete. I was especially thrilled to see a full explanation of Geo-Graphting. I feel ready to take on even the most complex rigging job now. . -- Khory

'A nice read... having this sort of information to demystify the process makes me want to give it a go.' --Jack Tomalin

'I'm not one that works with modeling or rigging very often, but the tutorial is written and presented in a way that makes understanding of topics even for newcomers such as myself. A great follow up to the basics, with awesome explanation of the issues which arise with advanced rigging!' --DimensionTheory

Blondie has provided another informative guide that covers some of the issues rarely covered with Genesis content creation. In addition to discussing rigging techniques and geografting, she adds the bonus of discussing best practices of how to design content for use with Genesis with examples of problems that can occur if clothing or props are designed a certain way. With this, this guide is really a must have for people wanting to design clothing, props or geografted items for Genesis but didn't know where to start.' --Male_M3dia

Rigidity Grouping and Mapping in DS 4.5+
Description

At long last! -- a tutorial on using the rigidity feature in DAZ Studio 4.5+!!

Over a year in the making (because it took that long to collect enough information about the subject to write a tutorial on it), this tutorial explains what the rigidity feature can and cannot do, how to tell whether it's even needed, and most important, how to use it.

Rigidity can be used to "protect" items such as buttons, buckles, and ornaments from being distorted by figure morphs transferred from the base figure to clothing. It can also be used to force add-on items such as scabbards and arm-mounted weapons to hold their shape. And, of course, where the rigidity feature really shines is in its ability to make geo-grafted items retain their shape, proportions, and rigging.

All these functions are demonstrated and explained with step-by-step instructions and plenty of illustrations.

The tutorial is in .PDF format, with bookmarks and table of contents.

Comments About this Tutorial:
"Very thorough and well explained." -- Allen Renfeldt

"Blondie has been able to demystify something that even very advanced content creation artists have struggled with! Another brilliant tutorial that will be understandable and easy to follow for any skill level." -- Khory

"An exceedingly informative and easy to understand approach to the mystery that is rigidity. I also like the sense of humor and sense of fun that's been interwoven throughout the tut. You will definitely learn about rigidity and have fun doing it." -- IgnisSerpentus


Tutorial: Morphing Genesis 2 Female with DAZ Studio and Hexagon by Winterbrose
This one uses Hexagon, so will likely skip some of the steps necessary in the Carrara workflow, through using the DS > Hex Bridge. See my notes below this list on this.
Description
This 99-page tutorial is a comprehensive step-by-step guide on how to create your own morphs for the Genesis 2 Female figure to use and sell. Each step of the process, from beginning to end, is explained and fully illustrated. It covers problems you may encounter and provides solutions on how to overcome them successfully in order to create your own morphs.

This tutorial is designed for all skill levels from beginner to professional. Use it as a learning tool to develop your morphing skills, or keep it as a handy technical reference when you need to brush up on your skills.

Winterbrose has one for Genesis 1

Here

Genesis Starter Kit (I bought, and like this one) by Fugazi 1968
This one comes with a simple shirt template and shows how easy it can be to make a good uniform for Genesis using Hexagon. Again with the bridge, but once you know the procedure I mentioned earlier about scaling to Poser scale in Carrara before exporting, we really don't need a bridge. It's nearly as simple without one. Here's the product information:
Description

Have you ever wanted to make your own clothes? Think that it is too hard? Well I'm here to tell you that not only can you make your own clothes, but that you can make them with ease. This tutorial set is firmly aimed at learning by doing, instead of learning Hexagon then making clothes, you'll make clothes while learning Hexagon. Using the mesh template that is included in the package you will learn how to shape it into a shirt for Genesis. Using box modelling techniques to shape, refine and fit the mesh, then moving on to add details. Along the way you'll learn about:- Navigating in Hexagon Selecting polygons, edges and vertices Using symmetry Subdivision modelling Adding and deleting geometry Thickness Adding piping around the hem Mesh displacement with the painting tools Modelling seams Adding materials UVMapping Moving models between DS4 Pro and Hexagon Once you have finished the tutorials you will have a neat shirt ready to be set up in DS4 Pro, and more importantly the confidence and skills to make all kinds of garments out of the template.

Classic Bikini (Hexagon and DAZ Studio 4 Pro Video Tutorial) by Fugazi 1968
Again - another Hexagon tutorial, so we can expect that the bridge is used.
Description
Following on from the previous tutorial, this set shows how to create a garment from scratch. You'll make a garment for the Genesis Female then go on to set it up for use in DAZ Studio 4. In over three hours of video tutorials you'll learn how to create a cool bikini with some neat details. As well as learning some neat tricks to get a good mesh with the proper polygon flow. In the modelling sections you will learn about:

Polygon Modelling;
Subdivision;
Edges;
Changing the flow of polygons;
Piping Putting eyelets into the mesh;
UVMapping; and
Materials

Then it's into DAZ Studio 4 Pro where you'll set up your garment for Genesis, exploring how to fit a garment modeled on a Genesis shape instead of the base Genesis. Then going on to fix up an morph auto generated by DAZ Studio. You'll export the geometry, fix it up, then use it to replace the morph in DAZ Studio. Once all that is done you'll finish off the garment by adding subd and smoothing.
Hexagon Tutorials using the DS > Hexagon Bridge
Please don't feel 'put off' by a tutorial done in Hexagon. You'll find much of the same or similar workflow in Carrara. If questions arise from such, just ask and we'll tackle those issues as (if) they arise. The thing with the bridge is that we never have to worry about scaling or exporting or any of that. The DS > Hex bridge makes the transition between the two apps smooth as silk - which I like very much. However, now that I've started doing my modeling in Carrara, I like this workflow much better. Probably because I'm more used to Carrara and just feel more comfortable. Modeling over a base model in the Assembly room is an experience that just blows away any other cloth modeling I've ever attempted. Toward the top of this post I discuss exporting and scaling. That is the information you need to create your workflow without a bridge. It's really that small a difference.
Other Tutorials
Please post a link if you know of any tutorials you may know of. If there is enough interest in this subject matter, this thread will grow and change as needs be.
Also, if you have comments regarding anything discussed here, please feel welcome and encouraged to speak freely.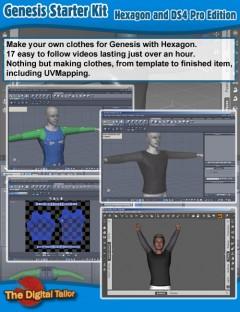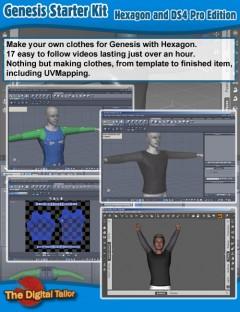 genesis-starter-kit-large.jpg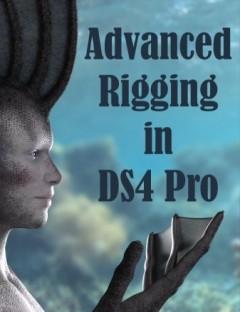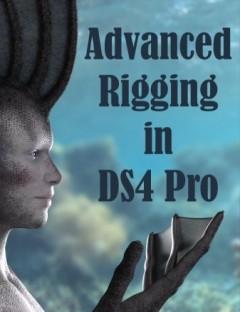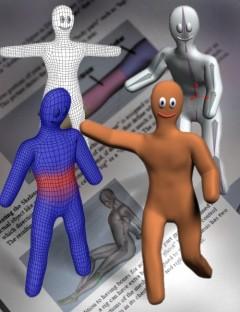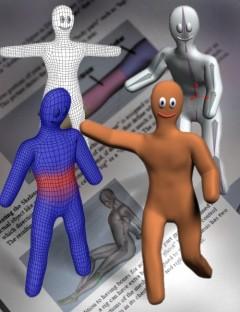 rigging-original-figures-in-ds4-pro-large.jpg