Buddhist Armour

3dcheapskate
Posts: 2,470
The best armour will always be protecting you - but what sort of armour can you wear permanently? "Sak Yant" (yantra tattoos) have always been very popular in South East Asia. Ritual application of these tattoos by a yant master endows them with supernatural powers to protect and aid the wearer. But with power comes responsibility: the wearer must respect the tattoos - failure to do so is likely to negate (or even reverse) the magic, possibly with fatal consequences!
A single preset tattoo layout (as shown here) mapped to 44 different figures (from DAZ3D, Poser, Sixus1, Kirwyn, and others - but for Genesis I've only done the original base figure so far). (Edit: the tattoos for Sixus1's Behemoth2/Thrusty will seem partially blurred/smudged - this is due to the limited resolution UV-mapping for certain areas)
One 2048x2048 PNG mask image for each figure. Masks can be used with DAZ Studio's LIE, but I've also included a couple of scripts, one for Poser, one for DAZ Studio (Edit: the DAZ Studio script is BETA version, and currently only works for standard materials - you'll notice this with Dawn, Genesis, or any figure using non-standard materials. Use LIE instead for these)...
ShareCG: http://www.sharecg.com/v/72731/view/11/Poser/Buddhist-Armour
Renderosity: http://www.renderosity.com/mod/freestuff/details.php?item_id=72648
Edit: if you want to see what the tattoos look like on the different figures check the additional images on the ShareCG page.
If you want need any hints on changing the tattoo colour or making them look newly applied or old and washed out check the additional images on the ShareCG 'Fixes and a Few More Figure Mappings' page - see post 4 below.
Mappings for a few more figures completed (see post #4), loads more yantra tattoos in the pipeline, plus improvements to the scripts...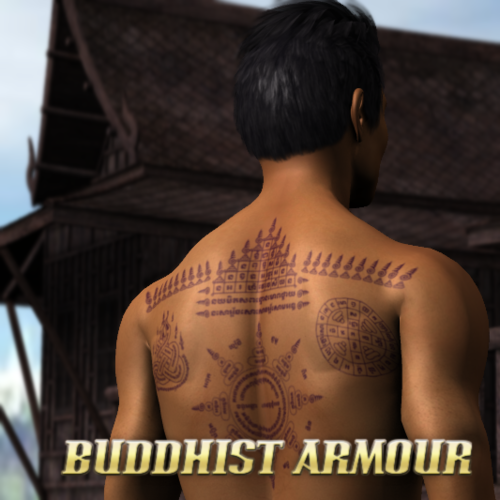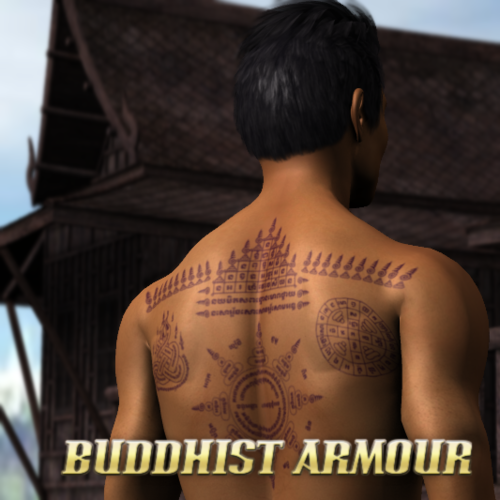 BuddhistArmourPromo1-533x533.png
Post edited by 3dcheapskate on