Real Fur for Millennium Cat and C8.5

thoromyr
Posts: 452
I've been fighting with Carrara again with respect to creating fur, specifically issues with tails, when I decided I wanted to see how the Real Fur for the Millennium Cat worked. Apparently it was a victim of switching systems and was no longer installed, but no big deal -- other than the installer wanted to create the directory /resources -- why it feels the need to create *anything* in the root dir I don't understand. But in the end it didn't seem like really mattered -- I got the hair car files where they were supposed to be and the only file it failed to create was /resources/ContentMap or some such and probably related to the uninstaller.
So... I created a new scene with the millennium cat and added the fur to it. All seemed good at first, except after playing around a bit I noticed the fur did not actually show up. I double checked different settings (visible, show hairs, the percent to display both in assembly and modeling rooms, and in the shader).
The hair count is a modest 400,000 so that shouldn't be a problem, but I tried reducing the hair count to no avail. So I deleted the fur and re-added it. Still no hair in the assembly room, but going to the modeling room the setting "show hairs" was disabled. I checked it and the hairs showed up. I then reduced the hair count from 400,000 to 4,000 -- and the hairs disappeared. Restoring the hair count didn't restore the hairs.
Over to the shader room the hairs showed! I switched the shader to a just-edited version of the default for this hair and they disappeared. Switching back and the hairs still don't show. Incidentally, the only change to the edited version was changing the white roots and white tips to noise mapped color gradients.
I've attached some screenshots of the settings, as well as one from modeling room -- which shows the guidehairs just fine, but no actual hairs. There's only the one hair group.
I don't recall for sure the last time I used MilCatFur and I may never have used it in C8.5 -- does it work for anyone else in C8.5-172?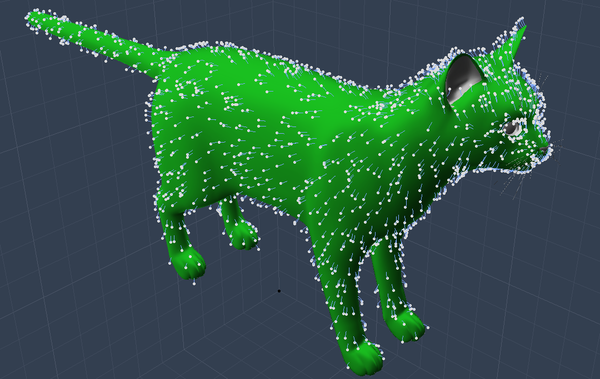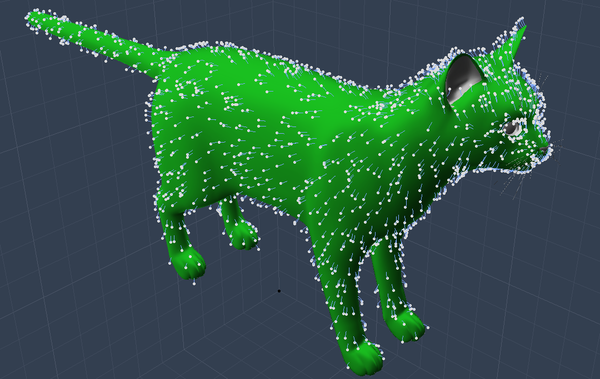 Screen_Shot_2013-02-06_at_6.10_.11_AM_.png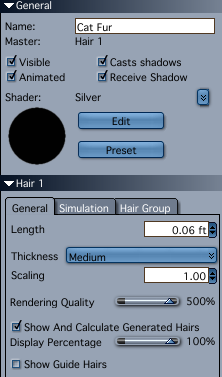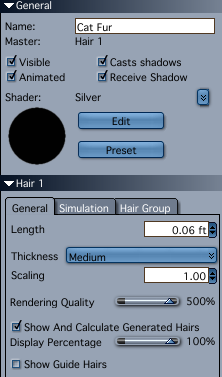 Screen_Shot_2013-02-06_at_6.09_.37_AM_.png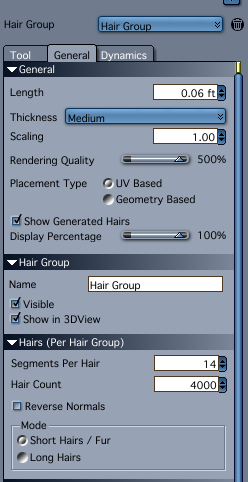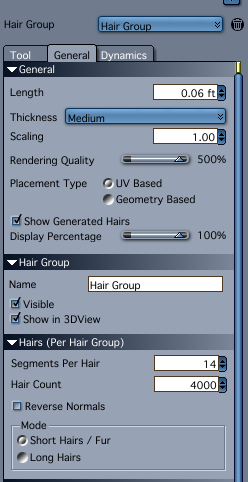 Screen_Shot_2013-02-06_at_6.10_.35_AM_.png