S.E. Asian Shields ('Smart+' Props for Poser and DAZ Studio) [DS Reflection Oddness?]

3dcheapskate
Posts: 2,586
Available for download from ShareCG and Renderosity Freestuff. Don't forget the additional textures and shaders also available at ShareCG and Renderosity (see later posts in this thread for details)
Three 'Smart+' shield props for Poser and DAZ Studio, based on photographs of historical S.E.Asian punch-grip shields from various Thai palaces, temples, museums, and private collections.
There's a single texture for each shield in both 'new' (as in the main promo) and 'worn' versions.
Why 'Smart+'? Well, it's like a smartprop, but it works with 28 figures...
- DAZ Gen 3: Aiko 3, David, Hiro 3, Laura 3, Luke 3, Michael 3, Stephanie Petite 3, The FREAK, The Girl, Victoria 3.
- DAZ Gen 4: Michael 4, Victoria 4 (should work with all variants, e.g. Aiko 4, etc)
- DAZ Gen 5: Genesis (base figure),
- Poser 5: P5 Don, P5 Judy.
- Poser 6: P6 James, P6 Jessi, Miki 2.
- Poser 7: G2 James, G2 Jessi.
- Sixus 1: Behemoth, PH Female, PH Male.
- Others: Antonia, Apollo, F202 Dollie, Kirwyn's K, MayaDoll.
...and automatically applies a hand pose to grip the shield!
Tested in DAZ Studio 3 and 4, and Poser 6, 8, and 9 on a windows PC.
(compatible with the 'PropGoto+' DAZ Studio/Poser scripts from my S.E. Asian Duel)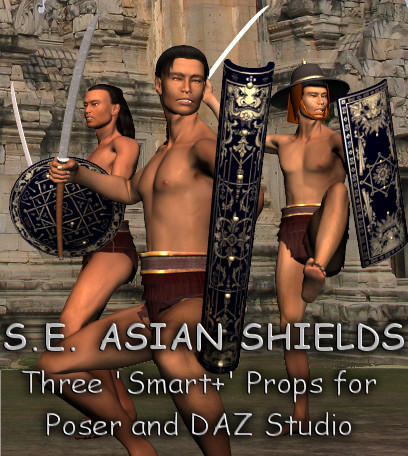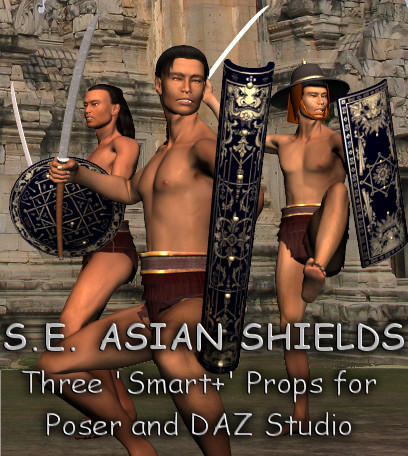 SEAShieldsPromo1(400x400).jpg
Post edited by 3dcheapskate on