Suite 2101 Rendering Error message

Ivy
Posts: 4,154
I got the suite 2101 today http://www.daz3d.com/march-madness/suite-2101.
Its loaded and looks beautiful,
But I dunno what I'm doing wrong . But I have yet to finish a single render Suite2101 with the present lights and sky-dome it comes with .
with out the lights and sky dome no problem rendering it with my own light.
The thing is I don;t even have any characters in the scene just the empty room I was trying to get a idea what it looked like so I know where to place my characters
- 2 hours and still rendering, and I have the lux shaders and light off. I use a lot of UE lighting with ray-trace, But it has never took this long to get a few lines to even show on the progress bar.
I tried to remove the lux light from the scene and change the light map to deep shadow map and it said " error on render" and crashed the daz program doing it that way
And when i shut down and restarted daz before the rendering even starts I get this message. Is that normal?
I posted the error message below
Should I open a support ticket . I really like the looks of this set so I hope to fix the the long render issue and error message. either way I not giving back..lol I just would like to be able to use it with the sky dome.
I tried rebooting my computer and reloaded it since i restarted it, I am at 2 hours and 14 min rendering still no progress on the bar..is that normal? Any Help be appreciated.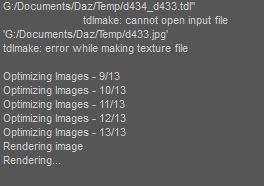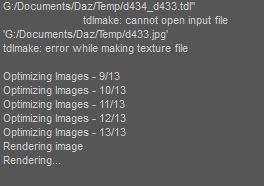 Post edited by Ivy on