Genesis and 4.5 Changes - A little too excited?

Daniel A Roberts
Posts: 11
Folks,
This may seem like a terrible pun, but it's not. I laughed for all of 10 seconds, when I realized this is a problem that can't be solved. When the new Genesis file was upgraded to .duf in the 4.5 install, they changed it. The figure is female dominant. The nipples are sharp enough to stab whomever she hugs.
Scaling the slider on Basic Male doesn't make them go away. In fact, even her below the belt region is female formed, just no hair. Even with basic male at 1.0
All of the dials on the morphs I own for nipples are set at 0. I can dial it up, but not down beyond the photo you see here. All fresh Genesis characters start out this way now. So I figured I would uninstall it for now and re-install my Daz 4 Pro - the 4.0.3.47 flavor. I went through the process... and blammo. The Genesis figure 'stayed' in the 4.5 .duf format and the error message I got was that there was no available importer for that format.
Hair pulling? Yes.
So I was forced to go back to 4.5 as the older version won't use Genesis anymore, even when re-installed. I have almost 7GB of purchased products between Daz and Renderosity, a clean reinstall would take almost all day of putting files back.. something I'm not prepared to do unless I can't get fixable results here.
Here's the screenshot of what I'm talking about. I put JS Pants on both models because the 'female' crotch area was just as pronounced as the nipples. I mean, is this really what we're stuck with now? Isn't there a way we can get the truly 'generic' genesis bck so we can scale male or female without ice-pick nipples?
Please ... if there's a fix for this, let me know. I scaled the forums for similar, couldn't find it. If the fix has been mentioned and I missed it, a link would be stellar! Thanks!
On Edit: Even Muck looks unhappy. No shape that's humanoid is escaping the problem. The only ones who don't have it are previously saved characters from the older genesis figure.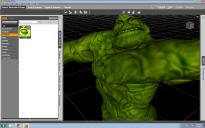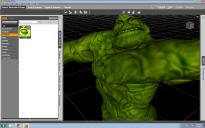 Post edited by Daniel A Roberts on