Need help with Daz Renders!
Dare Arkin
Posts: 0
So don't hit me, I'm new to Daz3d. I've downloaded the free version from the main site, and am running it on Windows 7. (I think that's all you should need.)
NOW; rendering. If I render a scene on anything from 1-3, it'll show everything (and have very little graphical difference.) WHen I hit 4, the lighting changes drastically and it looks a lot better- but it's almost IMPOSSIBLE for me to figure out what will be lit and what won't. Is there a way to force the quicker renders to show the -actual- lights in the scene?
Here, to show you what I mean. This is one version of the render;
but in the 'final' render (Setting 4) the lighting is completely different, and the starfield (Spacesphere) cannot be seen at all.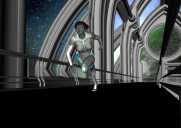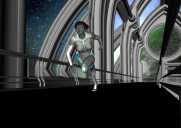 Post edited by Dare Arkin on