The Briefing (-Meeting-Class) Room.... Now Available!

V3Digitimes
Posts: 2,141
Hello! A quick edit on the 27th of July to inform you that the product is now out!
You can find it here :
For the Bundle Room + the Poses :
http://www.daz3d.com/the-briefing-room-bundle/
For The Room Only :
http://www.daz3d.com/the-briefing-room-1/
For The Poses Only :
www.daz3d.com/the-briefing-room-poses/
Welcome to the Briefing-Meeting-Class room, let's call it the Briefing Room to be shorter.
This is presently a WIP of a Prop I'm going to submit to DAZ as soon as it is over (as soon as....).
Let's say 90% of the job is already done. That is why before finishing it, I'm presenting it here, in order to eventually include your feedback in the final stages of development.
This multi-usage / multi-purpose room can be used for your briefings, your meetings, office or classroom areas depending on the elements you'll chose to move or remove.
For now (I'll determine if I keep all of this in final version), it includes :
A large choice of loads options :
1. Load the main scene (4 walls + floor + ceiling) and add one of the 5 corresponding center area option (chairs only, chairs and "classroom alignment" tables, Cshape tables configuration, or a UShape one, or a Two Work Areas of 4 tables),
2. Load these 5 different scenes already settled,
3. You can chose to load separately the useful areas depending on your camera angle (North, South, East and West Areas, Room Floor, Ceiling and the 5 "Room Centers" come separated).
You will find many elements to customize your room :
Different Materials presets: ON/OFF for : TVs, Beamer, Beamer Screen, and White Board written or not.
Morphing Elements: Lectern Micros and Lectern Shape, Beamer Screen opening/closing
Mobile elements : Door, Door Handle, and the funniest : the needles of the clock!
Many Props (not counted yet!) amongst them, flags (3 different ones), cabinets, coffee pots, printer, fax, TV screens, tables, chairs, Video Screen, books and box, fire alarm, wall switches, wall plugs, clock, have been included in order to add to realism.
Special "fake" irradiance maps are included in order to fake the real repartition of light on the walls, ceiling and floor in DAZ and Poser (Octane or luxrender users will be able to remove them).
And finally, to help you going faster :
- Today, 13 camera presets to be sure to start "in the room" with appropriate camera settings.
- 2 lights Presets for more realistic renderings, one cold light, one warmer light.
- Several character poses presets : 3 Lectern (for now), 7 sitting (for now) with or without table, and several standing (12 for now). All these poses are today made for M4 and V4 (height offset of characters included to take into account shoes thickness - more particularly "Ultimate Military" Ranger boots).. Mirror poses will be included too. All sitting poses are made of the first chair of the first room center options, and there is a folder of poses allowing you to change the character place on any chosen chair in the room (presently under development, very long to do!).
I'm not sure right now that there is a interest to make them for Genesis since Genesis characters vary a lot in size, and that all poses can easily be adapted from M4 or V4 poses. Any opinions about it?
You can see some of the poses on the images linked.
What else? Well the room is a "blind" room, which means that you won't have to worry on how to deal what's behind the windows.
Here are a few renders, Poser Renders first for global room and poses, then Octane renders for some room details (renders made to check everything was going to be OK under octane and luxrender). I have not finished the materials and lights on DAZ, which explains why there are not these renders yet. And you can of course click on images to enlarge.
Now as I told you, any feedback is welcome for this product to be as close as possible to your needs.
TestsOCTANE_RENDERS_RoomDetailsII.jpg
TestsOCTANE_RENDERS_RoomDetails.jpg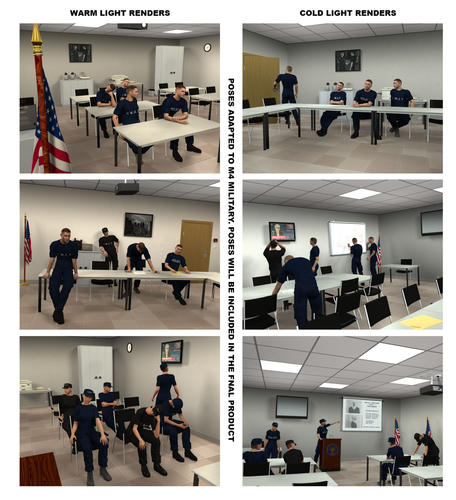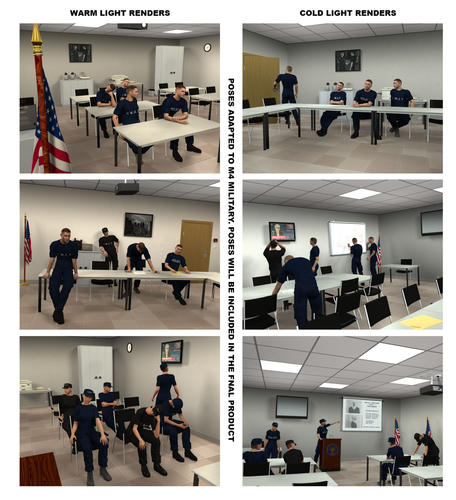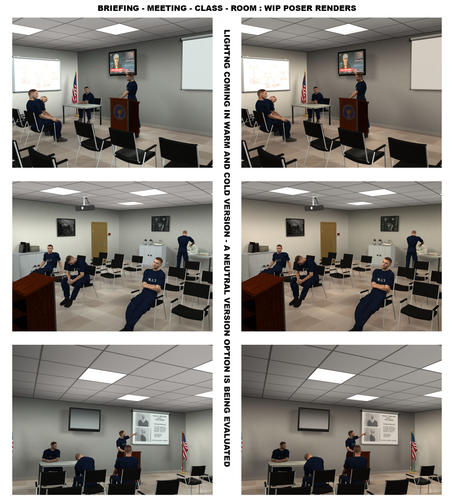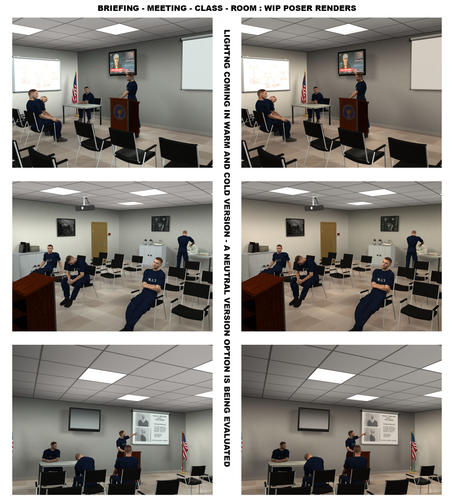 Post edited by V3Digitimes on