Essentially resolved - Alessandro New Rhino- shapes issue solved, but then...

nowefg
Posts: 407
(Original post: "Just a heads-up on Alessandro's new release, Rhinoceros 1:
Product appears to be missing morphs, the species specific shapes that are advertised, and there's a major problem with the MATposes.
Also, Alligator & Caiman has a major flaw with application of MATposes: the models load missing eye and claw textures in the Daz version, and the texture don't apply from MATposes.
The Poser version does load the correct MATpose, but doesn't respond to MATpose changes, like black-eyes or teeth. If you try to change the auto-loaded texture, you lose all texture, and then textures refuse to apply at all. Have to reload and take the stock-load textures.
I have submitted a report to Daz about these not-working-as-advertised products, but in the meanwhile, it's your money; they've already taken mine and once again I didn't get what I paid for. Go figure.")
UPDATE: Shapes issue resolved with a fresh download, but when I used the product, other problems came to light:
Having to manually track down the product's lmh seemed a hassle; the LAMH tab defaults to Studio 4 folder for some reason, even though the Rhino product is selected. That said, I got the lmh applied and rendered, and it looked good.
I then deleted the LAMH Group from the scene, and tried to apply another; got this refusal msg saying I could only have one LAMH preset per scene, a limitation of the free Player. As you can see, there are no LAMH groups in this scene, so it should go.
What I then did was open a new scene, load rhino, load lmh after hunting it down, try to apply it--in a brand new scene--got the same refusal msg. Had to exit Studio, open it again, etc. etc, and then I could apply a preset.
Then, having decided to move on to other products I've recently purchased, I kept the same scene, removed LAMH Group preset from the scene, but when I tried to remove the rhino itself, Studio crashed. No idea what's up with that. Removing an item from a scene shouldn't cause the application to abort, but that's what happened. I've got the log file.
So. Studio 4.6 Pro 64 bit, Windows 7 64 bit, dual-core pc 2.45 ghz, 4gb ram... pretty standard.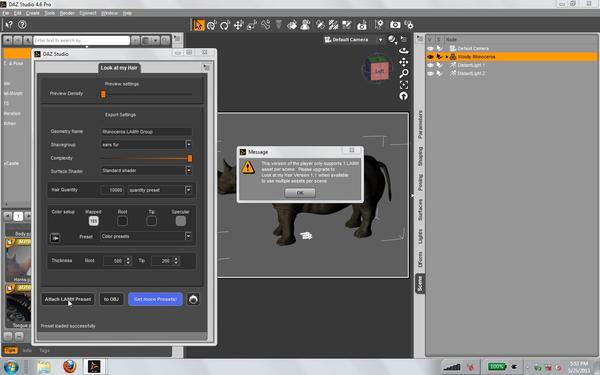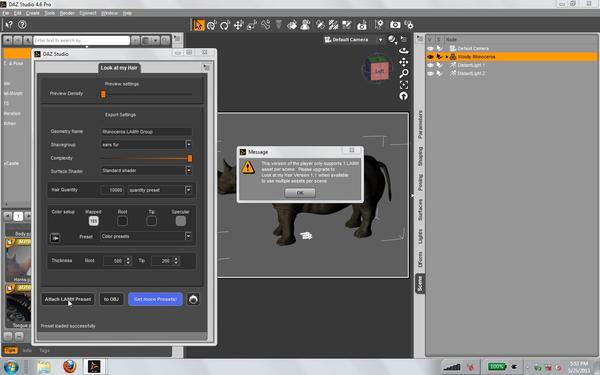 Post edited by nowefg on