Tlaloc For M4 (Update : DS-Specific MATS Now Available)

Seliah (Childe of Fyre)
Posts: 332
**UPDATE #4 - 21.06.2013**
I now have Studio-specific MATs made for Nathan, so you Studio folks don't need to manually adjust the texture settings every time you load him into a scene. (I know Studio applies an over-abundant specularity value, among other things, to his skin).
I'll get the DS Mats uploaded to my main website eventually, but for now, you can also get them off of ShareCG.
http://www.sharecg.com/v/69929/view/11/Poser/COF-Nathan-Tlaloc-DS-Mats
______________________________________
**UPDATE #3 - 12.06.2013**
Thanks to Frodi, who pointed out there was an error in my texture references on three of the MAT files, I've gone in and fixed those errors. If you downloaded him prior to today (6/12/2013), please re-download the zip to get the fixed MAT pose files. Reinstall the Base Texture, Head NO Scars, and Head Scar pz2 files in order to update to the fixed version. Sorry, guys! That one got past me before uploading.
______________________________________
**UPDATE #2**
For those who dislike my website navigation, Nathan is now up on ShareCG as well.
You can find him over there at this link:
http://www.ShareCG.com/v/69762/view/11/Poser/COF-Nathan-Tlaloc
______________________________________
**UPDATE 11.06.2013**
http://www.childeoffyre.com
Alrighty! He's finally available for download off of my website. I'll get him posted to ShareCG eventually as well, and I will of course supply that link once I have him up there. For now, though, you can definitely grab him off of my website.
To get to him, just click the splash image, and then click "Characters" in the LEFT HAND side navigation menu. His details page will load from the thumbnail (link at the bottom of the details page). I attached the thumbnail you'll be looking for on the characters page of the website.
DISCLAIMER :
You *MUST* load a separate M4 if you intend to switch back and forth between the Elite/H4 and the Morphs++ versions of his morph presets. For some wonky reason, the files won't work correctly if you attempt to use them on the same M4 figure. I do NOT know why this is, and apparently no one else does, either.
STUDIO Users :
You WILL need to adjust the specularity settings on his skin, as Studio seems to automatically assign a full 1.000 value to his skin specularity. I *WILL* look into getting DS-specific MAT files made as soon as I can. Once I can find a how-to...
Package Contents :
8 Eye Textures
4 Limbs Textures
4 Torso Textures
4 Head Textures
1 Lash Transmap
1 Teeth/Gums Texture
PNG Thumbnails
Elite/H4 INJ/REM for the head
Elite/H4 INJ/REM for the body
Elite/H4 INJ/REM for both at once
Morphs++ INJ/REM for the head
Morphs++ INJ/REM for the body
Morphs++ INJ/REM for both at once
1 Base Texture MAT (apply this first!!)
8 Eye MAT poses
4 Body (from neck down) MAT poses
3 Scar Partial MAT poses (Arms, Legs, Torso)
6 Wounded Partial MAT poses
——Arms NO Scar
——Arms With Scars
——Legs NO Scar
——Legs With Scars
——Torso NO Scar
——Torso With Scars
4 Head MAT poses
——Base Head (no scars, no wounds)
——Scars
——Wounds-Only
——Wounds With Scars
_________________________________
Hey guys.
I know it's been a long time since I've been in here posting anything up. It's been nuts on my end, combined with memory issues on the computer, which means limited to no artwork or creation capabilities. Anyway, I'm looking for input on this guy - would there be any interest in him? This is a skin I had to make for an RP character of mine, as I couldn't find anything out there that seemed to suit him.
Would ya'll be interested in it? He's for M4. Nothing fancy here, a bunch of eye textures, one scarred texture, and one non-scarred texture for the skin. His morphs use a combination of the Morphs++ and M4's Elite morphs.
Here's a closeup of the scarred face MAT... rendered in Poser Pro 2010.
I'll try to do a DS rendering later and see what it looks like, but I do not have DS-specific MATs for him, and have no idea how to make them, either...
Please Note : I did this with fairly low-quality render settings due to memory issues on my system. Will do a better shot later. I'm still fussing with the scars on his torso and legs... not happy with the ones on his legs at all yet. He's very much still a work in progress.
The shirt is from the Midnight Hunter set with Arien's texture. Hair is the Midnight Prince set with extensive modifications on the texture done by me. Click on the image to see full size.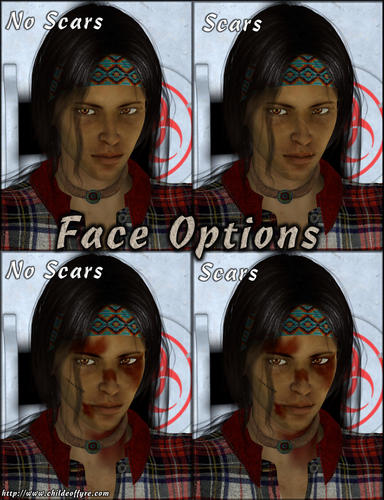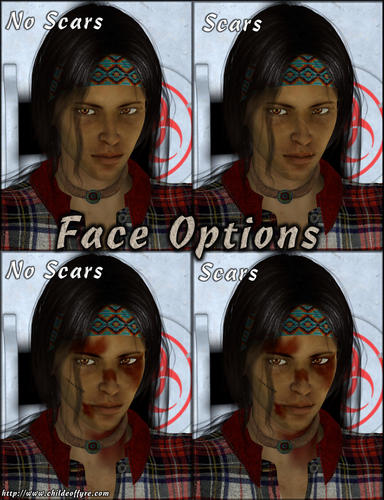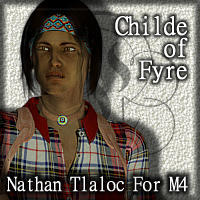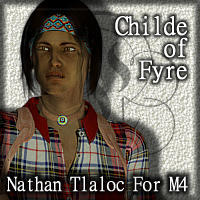 Post edited by Seliah (Childe of Fyre) on