"Noise bump" using shader builder or mixer?

V3Digitimes
Posts: 2,143
Hello,
I'm not a total beginner in 3D, but a total beginner for DAZ materials creation.
I have a problem understanding DAZ shaders.
I'm trying to add a "noise type" bump to one of my materials.
It was very easy to to on poser, I just had to grab a link from "noise mathematical node" to "the bump node" and adjust the parameters. I thought it was going easy too on DAZ. But it is not.
During the last few hours, I discovered the existence of "shader mixers" and "shader builders". So I watched daz official tutorials about mixers (presentation and number 1 out of 2)... But I still cannot find the answer. What I have done is creating a noise image on photoshop and used it as a texture map for my material's bump, but I'm not satisfied with this solution.
So, does anyone know how to create a bump relying on a mathematical "noise"? Or does anyone have a link to a tutorial (free or not) which will explain me how to do it?
Thanks in advance for your help,
PS : if it can help you to see what I'm looking for, here is the result I would like to have on DAZ (the next image comes from poser). It is concerning the material for the sole, I would like to have this kind of bump :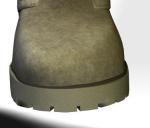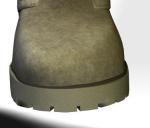 Post edited by V3Digitimes on