Project EYEris - New DAZ Studio Shader and Preset Package *OUT NOW* [Commercial]

DimensionTheory
Posts: 429
Now available as part of March Madness 2013!
http://www.daz3d.com/project-eyeris/
The focus of Project EYEris has been big steps forward towards realistic eyes in DAZ Studio, providing raytraced solutions to create detail un-achievable with transmaps or reflection maps. Containing a brand new shader for DAZ Studio, Project EYEris gives you a new way to approach all surfaces with unique effects like tone curved reflections and specular flaring.
This shader comes to you in the form of an injection preset that will work on all existing eye surfaces, or from a large library of presets using the included high detail texture maps. 24 different full eye presets (8 human, 8 monster and 8 bionic) finish everything for you, while 30 individual scleras and 30 separate irises allow you to alter the results. Also included are 5 tear and 5 lacrimal presets to further refine your looks while reflection presets modify special effects.
For more information please refer to the shader documentation...
http://3dimensiondigital.com/locker/projeyeris/EYErisShaderDocumentation.pdf

Project EYEris:
Brand New DAZ Studio Shader:
Controllable specular flare effect adds 8 more specular per light in a star burst pattern
Tone curved reflections allow greater control of reflective highlights
New simplified bump-displacement method allows for detail stacking (bumps on bumps)
Injection Preset:
Single preset applies straight to your character's existing eyes
Adds new features like specular flare and curved reflections to old characters with a single preset
4 New Eye Morphs courtesy of Age of Armour:
EYEris Iris Depth
EYEris Pupil Depth
EYEris Pupil Soften 1
EYEris Pupil Soften 2
EYEris Material Database:
24 full eye presets (eye-tear-lacrimal):
8 Human
8 Monster
8 Bionic
30 Sclera only materials
30 Iris only materials
05 Tear materials and 5 Lacrimal materials
27 Reflection modifiers for any material
Textures:
10 Texture Maps (2048 x 2048)
64 Texture, Transparency, Bump and Displacement Maps (4096 x 4096)
DAZ Studio Material Presets (.DUF)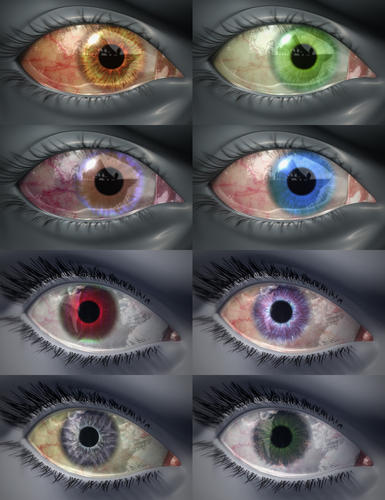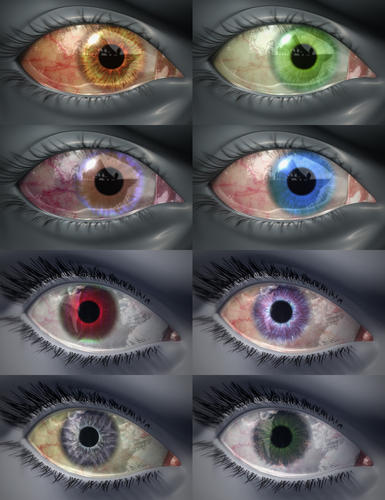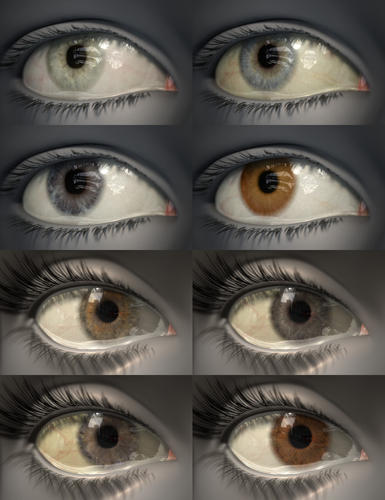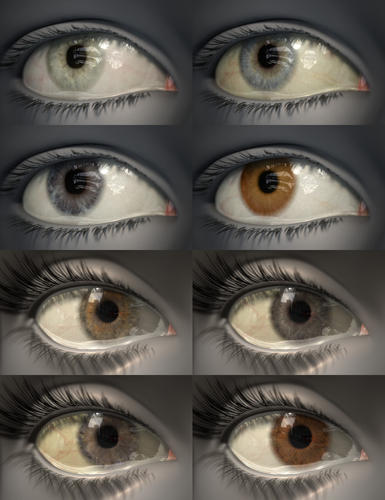 Post edited by DimensionTheory on