Lo-res knot OBJs for clothes/prop modelers - First Batch Done

3dcheapskate
Posts: 2,068
First batch available at ShareCG and Renderosity. I've removed all my freebies from Renderosity.
Upload was announced in post #40, so check the lead-up to that post for more background.
For one of my ongoing projects I ended up mesh-modeling a simple dual-cord thumb-knot (since I've been unable to find any freebie unrestricted use OBJ knots). The attached image is a Poser 6 render of this 208-face model from various angles (with smooth polys, displacement, cable shader, etc applied) - I was gobsmacked that something so simple could look so effective!
Now as anybody who's tried knows, modelling knots can be a right PITA, so a bunch of freebie, unrestricted use pre-made OBJs that can be imported into whatever you're modeling seems a good idea. If there's enough interest I'll try doing a few more knots (anybody else with a masochistic streak is welcome to join in!)
;-)
More info about the one I've already done on my blog here - Ideas - a knotty problem. I didn't think it was really worth uploading as a freebie on its own, but if I can add a few more, maybe some cable ends (eye-loop type things) too?
(Alternatively, if somebody knows where there's a bunch of free, unrestricted use, lo-res polygon mesh knots please point me at them!)
Thanks to amy_aimei for sparking the thought with her bow-knot freebie at ShareCG...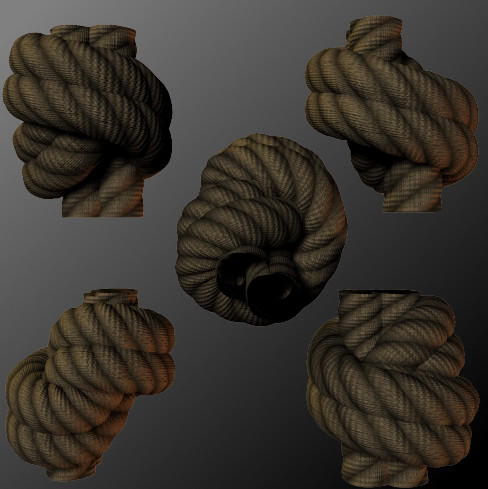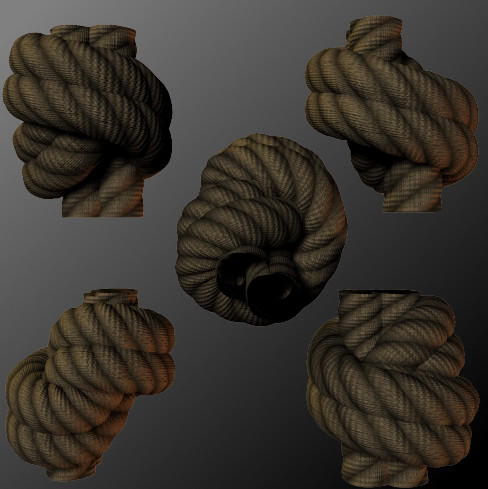 Post edited by 3dcheapskate on